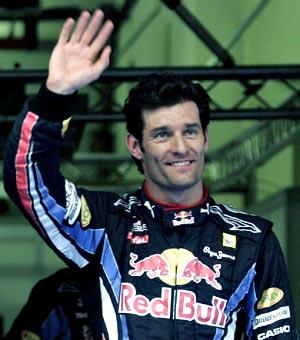 Australian Mark Webber seized pole position for Sunday's Spanish Grand Prix ahead of German team mate Sebastian Vettel on an all Red Bull front row.
The pole was the team's fifth in five races, and Webber's second of the season.
"This pole was for the team, both sides of the garage have had about five hours sleep in the last two nights. They have really worked incredibly hard," said Webber, who will start from the top slot for the third time in his career.
"It's a sensational qualifying for both Seb and myself."
Lewis Hamilton was third fastest and shares the second row with Spaniard Fernando Alonso, his former McLaren team mate and double world champion who is now racing for the first time at home as a Ferrari driver.
Formula One world champion Jenson Button, in a McLaren, and seven-times champion Michael Schumacher, for Mercedes, will line up together on the third row at the Circuit de Catalunya.
Schumacher's sixth place marked the first time that the 41-year-old German, making a comeback after three years out, had qualified ahead of team mate Nico Rosberg and was also his highest grid position of the year.
Rosberg qualified eighth with Poland's Robert Kubica seventh for Renault but the German was unhappy that Ferrari had released Alonso straight into his path in the pit lane at the start of the decisive final phase.
"Alonso should get a penalty for that," he told the team over the radio.
Webber, who was faster than Vettel in all three stages of qualifying, will be boosted by the knowledge that the driver on pole has won for the last nine years in Barcelona.
Vettel, on pole three times this year but a winner just once, will equally be encouraged by the fact that no driver has won from pole so far in 2010.
Neither will need reminding that they locked out the front row at the last race in China, only for Button to take the victory.
"I think we are enjoying ourselves. Mark wants to beat me and I want to beat Mark," said Vettel, congratulating his happy team mate, who will have to start on the 'dirty' side of the circuit.
"Maybe I can find something for tomorrow... even if it might look comfortable from the lap times, I think we have to keep our feet on the ground," he added of a session in which the Red Bulls lapped seven tenths faster than the rest of the field.
"This should be a walk in the park for the Red Bulls. If it's dry, it probably will be," commented Button after the most predictable of outcomes.
Hamilton said the Red Bulls looked "ridiculously fast" and McLaren had a lot of work to do, with Ferrari also competitive after introducing engine and aerodynamic modifications for the first race of the European season.
Spanish Grand Prix provisional qualifying result:
  1. Mark Webber (Australia)   RedBull-Renault     1 min 19.995s
  2. Sebastian Vettel (Germany)    RedBull - Renault   1:20.101
  3. Lewis Hamilton (Britain)      McLaren             1:20.829
  4. Fernando Alonso (Spain)       Ferrari             1:20.937
  5. Jenson Button (Britain)       McLaren             1:20.991
  6. Michael Schumacher (Germany)  Mercedes            1:21.294
  7. Robert Kubica (Poland)        Renault             1:21.353
  8. Nico Rosberg (Germany)        Mercedes            1:21.408
  9. Felipe Massa (Brazil)         Ferrari             1:21.585
 10. Kamui Kobayashi (Japan) BMW Sauber-Ferrari        1:21.984
 - - - - - - - - - - - - - - - - - - - - - - - - - - - - - - - -
 11. Adrian Sutil (Germany) Force India-Mercedes       1:21.985
 12. Pedro de la Rosa (Spain) BMW Sauber-Ferrari       1:22.026
 13. Nico Huelkenberg (Germany)    Williams-Cosworth   1:22.131
 14. Vitaly Petrov (Russia)        Renault             1:22.139
 15. Sebastien Buemi (Switzerland) Toro Rosso-Ferrari  1:22.191
 16. Jaime Alguersuari (Spain)     Toro Rosso-Ferrari  1:22.207
 17. Vitantonio Liuzzi (Italy) Force India-Mercedes    1:22.854
 - - - - - - - - - - - - - - - - - - - - - - - - - - - - - - - -
 18. Rubens Barrichello (Brazil)   Williams-Cosworth   1:23.125
 19. Jarno Trulli (Italy)          Lotus - Cosworth    1:24.674
 20. Heikki Kovalainen (Finland)   Lotus - Cosworth    1:24.748
 21. Timo Glock (Germany)          Virgin - Cosworth   1:25.475
 22. Lucas Di Grassi (Brazil)      Virgin - Cosworth   1:25.556
 23. Karun Chandhok (India)        HRT - Cosworth      1:26.750
 24. Bruno Senna (Brazil)          HRT - Cosworth      1:27.122
- - - - -
1-10: Third and final qualifying session; 11-17: second qualifying session; 18-24: first qualifying session