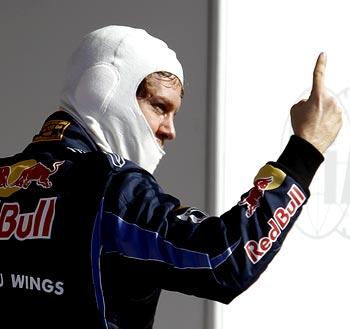 Germany's [ Images ] Sebastian Vettel [ Images ] put returning compatriot Michael Schumacher [ Images ] in the shade on Saturday with pole position for Red Bull at the season-opening Bahrain Grand Prix [ Images ].
Schumacher, the seven times champion returning at the age of 41 after a three-year absence, qualified seventh for Mercedes [ Images ].
Britain's world champion Jenson Button [ Images ] will be alongside the former Ferrari [ Images ] ace in eighth place after just sneaking his McLaren [ Images ] into the final phase of qualifying.
Ferrari's Brazilian Felipe Massa [ Images ], returning for his first race since his serious head injury last July, qualified second with new Spanish team mate and double world champion Fernando Alonso [ Images ] one place behind.
McLaren's Lewis Hamilton [ Images ], the fourth world champion on the starting grid, starts fourth.
Vettel, who came into Formula One with the nickname 'Baby Schumi' the year after Schumacher retired in 2006, finished overall runner-up last season while his Renault-powered team won the last three races of 2009.
"It's a big surprise," said the 22-year-old, who had mechanical problems in practice on Friday. "In winter testing, no one really knew where everyone was. Of course it was clear that four teams were pretty strong."
"Tomorrow is going to be a long race, the first of 19, and it's not going to be a sprint. It will be an endurance event."
He congratulated Massa, a double winner in Bahrain in the past, for his strong comeback from life-threatening injuries sustained in qualifying for the Hungarian Grand Prix last year.
"Big respect for what he has achieved," he said. "First race, he's back and bang, bang, bang. It's good to have him back."
Massa returned the compliment with a grin: "It's just fantastic to hear that. I want to be in your place but I'm happy for you," he replied.
Germany's Nico Rosberg [ Images ] qualified fifth, ahead of team mate Schumacher, with Vettel's Australian team mate Mark Webber [ Images ] sixth.
Towards the back, Virgin Racing were the best of the new teams with Germany's Timo Glock [ Images ] qualifying 19th. Lotus pair Jarno Trulli [ Images ] and Heikki Kovalainen [ Images ] were 20th and 21st while Hispania (HRT) filled the back row.
Indian Karun Chandhok [ Images ] finally made his debut for Hispania, after missing all three practice sessions, and qualified last alongside Brazilian team mate Bruno Senna, the nephew of the late triple champion Ayrton.