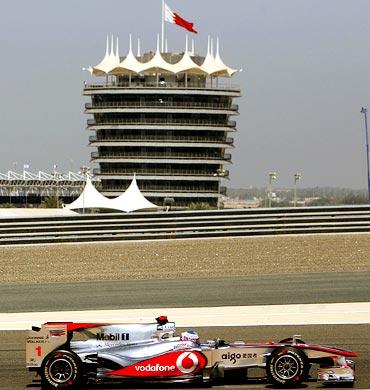 Renault have accused rivals McLaren of opening up a Formula One arms race with their controversial rear wing even though it has been ruled legal by the sport's governing body.
"It is fundamentally clear that the McLaren wing design is totally illegal," Renault managing director Bob Bell told BBC radio after the first practice session of the season at the Bahrain Grand Prix in Manama on Friday.
"They have driven a cart horse through the spirit of the rules and regulations," added Bell, whose team are competing under a suspended permanent ban after a race-fixing controversy that hung over last season.
"They have opened up another arms race, it's going to cost everybody a lot of money. The governing bodies need to be a lot stronger with these things."
The McLaren car passed inspections on Thursday at the Sakhir circuit and the team said they consulted the governing International Automobile Federation (FIA) throughout the design process.
Williams co-owner and engineering director Patrick Head told Reuters that the rear wing had a slot that appeared to be fed by a duct that McLaren drivers Jenson Button and Lewis Hamilton could block at will by body movement.
"I understand that (race director) Charlie (Whiting) is saying that article three of the regulations that would limit something like that don't apply to the driver, only to the car," he said.
"But I do remember when our active ride car was banned, it was banned on the grounds that a piston in the strut was moving and by virtue of doing so was influencing the aerodynamic performance of the car.
"What I'm told Charlie is saying is that Lewis or Jenson's knee, or whatever it is, is not part of the car."
ONE-HANDED DRIVING
Head said Williams might take another look at the McLaren system.
"It is a bit of a problem because if one car is suddenly able to gain five or six km an hour on the straight then we've all got to do it," he added.
He depicted a scenario where drivers might drive one-handed down the straight with the other covering the flow of air through a hole elsewhere in the cockpit to give an aerodynamic advantage.
"If anybody comes up with a way to make their car 0.3 or 0.4 of a second quicker around the track that other people haven't done, then they've been very clever," said Head. "I'm not saying it's illegal but we've just got to look at Charlie's interpretation."
Red Bull team boss Christian Horner, who first aired concerns about the McLaren device, said the wing had been declared legal so rival teams would have to come up with their own solutions.
"We questioned it some time ago," he said. "As the FIA have looked at it and deemed it to be okay, it's therefore a clever design as opposed to illegal design.
"So inevitably now there will be a wild goose chase I guess of all the teams chasing that loophole."