Fernando Alonso [ Images ] won the season-opening Bahrain Formula One Grand Prix [ Images ] and led a Ferrari [ Images ] one-two in a dream debut with the Italian glamour team on Sunday.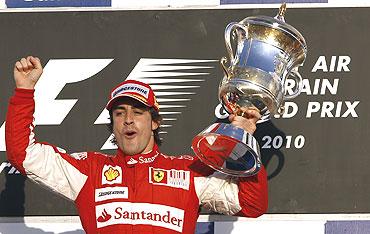 In a strength-sapping race led for 34 of the 49 laps by Germany's [ Images ] Sebastian Vettel [ Images ] before his Red Bull slowed and was reeled in, the Spaniard laid down a marker for the season ahead with his 22nd career victory.
It was the double world champion's first triumph since he won the 2008 Japanese Grand Prix for Renault [ Images ] and he weaved his car from side to side on the track as he approached the chequered flag without another car in sight.
Brazilian Felipe Massa [ Images ] had to settle for second place, 16 seconds behind, on his race return from life-threatening head injuries suffered in Hungary last July.
It was Ferrari's first one-two finish since France [ Images ] in June 2008 and ended a run of three wins in a row by Renault-powered Red Bull.
Britain's Lewis Hamilton [ Images ], the 2008 world champion, completed the podium for McLaren [ Images ], 23.1 behind Alonso, with Vettel slipping to fourth after starting on pole.
In a race run without refuelling and in searing temperatures at the newly-extended desert circuit, Alonso collected 25 points for the win under a scoring system that now rewards the top 10 finishers.
After parking up, the Spaniard stood on the car and celebrated - punching the air and beating his chest before hugging mechanics.
Seven-times world champion Michael Schumacher [ Images ], making a comeback at the age of 41 and after three years away, was sixth for Mercedes [ Images ] and one place behind fellow-German team-mate Nico Rosberg [ Images ].
In a race low on thrills and spills but picking up excitement as the cars burnt through their heavy fuel loads, world champion Jenson Button [ Images ] made a faltering start to the defence of his title with seventh place on his McLaren debut.
Malaysian-owned Lotus, their exalted name returning to the sport after a 16 year absence, proved to be the best of the three all-new teams and the only ones with a car still running at the finish.
Finland's Heikki Kovalainen [ Images ] was 15th, two laps down, and Italian Jarno Trulli [ Images ] 17th and last of those classified.