They really aren't, you know. Let's look at a few reasons why:
For one, the man in scarlet on the top step of the podium is Fernando Alonso, a double world champion the Ferrari tribe -- essentially the whole of Italy, plus redclad Tifosi all around the planet -- would gladly have physically ripped to shreds, singing rowdy Italian songs about how he was a whining crybaby.
- Complete coverage: Formula One 2010 season
It was a position that, at the time, seemed somewhat justifiable given that the Spaniard was rallying against his own team Renault, coming up with conspiracy theories about why they don't want him to win. He won then, but has since been through a torrid time with teammate-wars and bad cars, and looks clearly a more complete driver. He appears contrite about his reckless, whiny past, has learnt tact and apparent sportsmanship, and his driving is more immaculate than ever.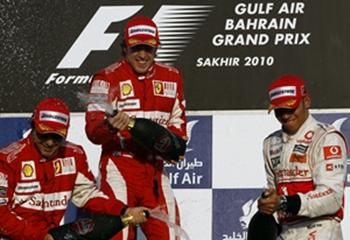 Now Alonso is not just a Ferrari driver, but one that's won a race for the marquee on his very first time wearing that distinctive colour.
He is the only frontrunner who didn't make a mistake on Sunday afternoon at Bahrain, bringing home his Ferrari comfortably ahead of his teammate Felipe Massa -- a man who survived life-threatening injuries last season and deserves much applause for being on the pace all weekend, outqualifying Fernando and almost making it to the top step of the podium, straight out of the box -- and McLaren's Lewis Hamilton, the Brit driving a car with appalling balance.
Secondly, Ferrari had hardly earned the top step. The miraculous Sebastien Vettel didn't put a foot wrong all weekend as the 22-year-old German qualified on pole and forced the pace right through the race, his Red Bull easily peeling away from the Ferraris. The race was Vettel's to lose, but the reason for his dropping down the order to fourth place is as heartbreaking as it is prosaic: a faulty spark-plug. Vettel slowed, was overtaken gratefully by three surprised racecars, and the Red Bull limped to the finish, holding off the Mercedes GP car of Nico Rosberg.
Thirdly, Rosberg. While we mourn the setbacks that constantly interrupt the inevitably stratospheric rise of Vettel's star, it was another young German who did rather well for himself. Nico Rosberg's gone into the season facing a hailstorm of press, all asking him if he can possibly cope with his partner. The boy tried to stay composed, and started off the season quite well, outdoing said partner on both Saturday and Sunday. A very tidy racer, Rosberg needs to continue chipping away and tipping the scoresheet in his favour.
It's not going to be easy, of course, since the main reason Ferrari isn't the same is because the man who resurrected their team, the finest ever rider of the prancing horse, now gallops from a Germanic stable. Michael Schumacher is back at 41 and while he might not have beaten his teammate on his very first try after three years out of the saddle, he's clearly going to keep trying. It takes a lot to get used to him wearing silver and driving for Mercedes GP, though fans are both optimistic and relieved to see him working with Ross Brawn, his longtime race strategist who, last year, delivered the best one-off team triumph in recent motorsport history.
So yes, watching the boys in scarlet take their first one-two since 2008 isn't as electrifying a sight as we've been used to.
Speaking of anti-electric, the race itself was a laborious procession of overfuelled F1 cars lurching around the track, all positions decided after the single round of pitstops, and speeds increasing nearing the end of the race, to little avail. Drivers, teams, spectators across the world all agree that it's boring, but for the FIA to rectify that would mean all the teams would have to agree on some changes, like a mandatory second pitstop. And, as always, the ones currently in front aren't likely to be as keen on the idea. Plus, over the next couple of races, we're likely to see the sequel to last year's battle of the diffusers.
It is Formula One's most tantalizing driver line-up in decades, and yet all we have is hope that the FIA sees sense and does something to make the races less processional.
Hope, and a slew of new teams, new allegiances, new livery, new racers, new rules. In the middle of all this change, we must congratulate Ferrari not just for victory, but for staying true and red.