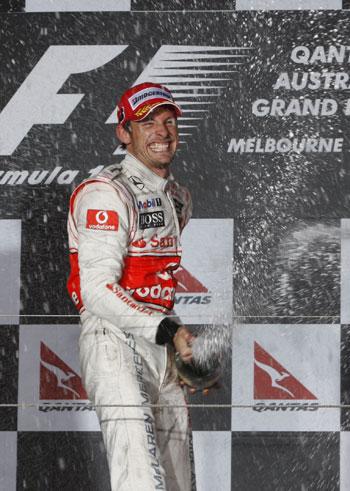 The Formula One season exploded into life in Melbourne on Sunday and while fans will be hoping for more of the same in Malaysia this weekend, officials will be happy just to see the race completed.
After a tedious opening race in Bahrain, a combination of a ban on refuelling, rainy weather, an early pitstop and Sebastian Vettel's mechanical misfortune means Jenson Button will be looking for back-to-back wins for a second year in a row.
Button won six of the first seven races last season on his way to a maiden world championship with Brawn GP but the Briton's victory in Malaysia was only worth half points as a tropical downpour ended the race after just 32 of the scheduled 56 laps.
More rain is forecast over the Sepang circuit this weekend, putting an even greater emphasis on strategy as the prospect of another rain-shortened race looms large on the horizon.
Following an off-season switch to become compatriot Lewis Hamilton's partner at McLaren, Button won his first race with the team last week in Australia in a car that still lags behind the Red Bulls and Ferraris in terms of pace.
The Briton made his own call on an early change of tyres in Melbourne and capitalised on the latest problem with Vettel's fast-but-unreliable Red Bull to inherit a lead he would not relinquish after a mechanical failure ended the German's race early.
"I think we travel to Sepang mindful that the characteristics of the circuit probably won't suit our car as well as it will suit some of the others, but I'm confident that, once again, we'll be fighting at or near the front," Button said.
Hamilton could only qualify 11th in Melbourne but after roaring through the field to press Renault's Robert Kubica for second, an ill-advised tyre change left him stuck behind the Ferraris before a late collision with Mark Webber consigned him to sixth place.
"Last year we saw what could happen once the weather took over," Hamilton said as he looked forward to the Malaysia race.
"While I'm hopeful that this year's race will be run in the dry, you can never discount the threat of rain. Either way, I think we'll be competitive."
CLASSY ALONSO
Fernando Alonso showed his class by winning the season opener on his Ferrari debut and had it not been for a first-lap spin, the Spaniard could have challenged for a second victory in the only car capable of matching the speed of the Red Bulls.
Despite that setback, the Ferraris have started the season well with a Bahrain one-two followed by Felipe's Massa's podium finish in Australia, ahead of Alonso in fourth, which put the Italian team clear of McLaren in the constructor's standings.
"We are happy with the Melbourne result, even if, on Sunday morning, we might have expected a slightly better one," Ferrari team principal Stefano Domenicali said.
"Considering what happened in the race, we can be pleased with finishing third and fourth, partly because our closest rivals either failed to score, or at least did not pick up many points."
Vettel remains positive of his team's chances but still curses his bad luck in the opening two races.
"I would have rather left Melbourne with 50 points (25 for a win) on my side instead of 12. We have a very fast car, that is a fact. We just have to make sure that we see the chequered flag," Vettel said.
"But it is only the second race so there is no need to get nervous. We just have to see that we have a good car at hand for the second half of the season."
In Melbourne, the first four finishers completed the race on a one-stop strategy by nursing their wearing tyres through to the finish.
The Sepang circuit has two very long straights which leads to the likelihood of more stops than the Australia race due to the abrasive effect of heavy braking on the Bridgestone tyres.