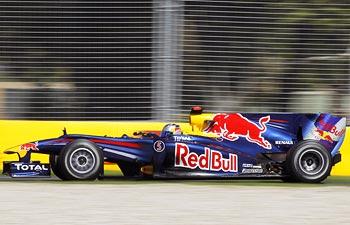 Red Bull have denied using a controversial ride height control system in their cars after McLaren suggested their Formula One rivals could be using technology which they had considered illegal.
"There's no such system on our car," a Red Bull spokeswoman said in response to comments from McLaren boss Martin Whitmarsh earlier on Saturday.
Whitmarsh told reporters at the Australian Grand Prix that McLaren are racing to develop a ride height control system of their own after noticing that some cars, Red Bull included, are running closer to the ground than expected in qualifying.
Asked by former McLaren and Red Bull racer David Coulthard, who acts as both a television pundit and a consultant to Red Bull, who might have such systems, Whitmarsh told the BBC: "I think it looks like Red Bull and some other cars are able to run lower in qualifying than you would expect if they are then going to fill the car with fuel afterwards."
SIMILAR EFFECT
Active ride systems, pioneered by the original Lotus team and then used to great effect by Williams, have been banned under regulations since 1993 but a ratchet device could have a similar effect without being illegally powered.
The advantage would come in the final phase of qualifying, with the cars able to run lower on the ground than rivals before then starting the race on a similar ride height.
"Frankly a few months ago if the engineers had come to me and said: 'We're going to design this system,' I would have said: 'Actually, I don't think it's permissible,'" Whitmarsh told reporters.
"There's some evidence that perhaps such systems are considered legal and if they are then we're going to get one as quick as we can. It's an opportunity for us to have a look at it."
Whitmarsh told the BBC he hopes the technology could be developed in time for the fourth round of the season, the Chinese Grand Prix on April 18.
McLaren's Jenson Button will start Sunday's race from fourth place while his British team mate Lewis Hamilton occupies 11th place after a disappointing qualifying session in Melbourne.
Red Bull hold both front-row spots for Sunday's race after German driver Sebastian Vettel led Australian team mate Mark Webber for his second pole of the season.
Formula One commentators have highlighted how the wooden plank on the underside of the Red Bull car occasionally appears to scrape the surface of the track, sending out puffs of dust, while qualifying on low fuel.
They have suggested that there must be a mechanism to restore the ride height when the car then starts the race with a full tank.
Whitmarsh's comments, at the second race of the season, came after Red Bull boss Christian Horner triggered a controversy over the McLaren's rear wing in the run-up to the championship opener in Bahrain.
Renault F1 managing director Bob Bell said at Sakhir that he felt the McLaren wing was "fundamentally illegal" and a breach of the spirit of the rules and regulations.
However, Horner conceded at the time that the governing FIA had looked at it and deemed it legal, adding that "it's therefore a clever design as opposed to illegal design".