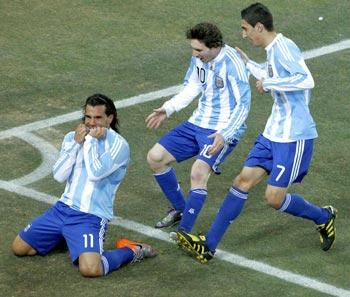 Carlos Tevez struck twice as Argentina set up a rematch of their 1986 and 1990 World Cup finals with Germany, beating Mexico 3-1 in their second round match in Soccer City on Sunday.
As in Germany's 4-1 defeat of England earlier, the game suffered a first half refereeing controversy when Carlos Tevez headed in Argentina's 26th minute opener. Television replays suggested he was well offside.
The Mexican players raised their arms in protest, coach Javier Aguirre appearing to point to the giant screen as his players berated Italian referee Roberto Rosetti who then went to his assistant linesman for confirmation.
Gonzalo Higuain was also on target for Diego Maradona's side, calmly rounding Mexico keeper Oscar Perez after a dreadful defensive error by Ricardo Osorio on 33 minutes.
Higuain's fourth goal of the tournament put him top of the goalscoring list.
It was all too much for Mexico whose substitutes had a heated exchange with their counterparts behind Aguirre's dugout at halftime.
There was no dispute, however, about Tevez's second, a stunning drive from 25-metres seven minutes into the second half.
Javier Hernandez pulled one back for Mexico on 71 minutes after a neat turn and powerful strike inside the area but it was to no avail.
Argentina's win set up a quarter-final clash with Germany in Cape Town on July 3.