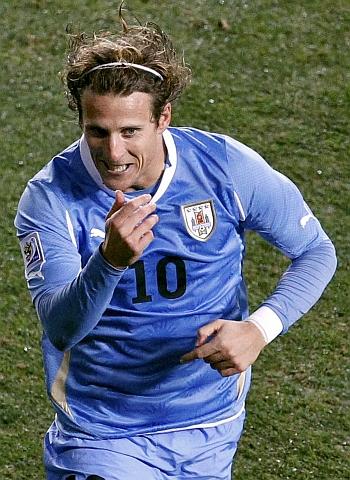 Having witnessed Diego Maradona in front of them, the football-crazy people of Kolkata saw another Diego, when 2010 World Cup golden ball winner Forlan left a 40,000-plus spectator spellbound in the floodlit Yuba Bharati Krirangan.
With percussionist Sivamani setting up the tone with some lively performances, Forlan added colour to the evening as he kicked off the grand finale of 'The Match', a football reality show by Mahuaa Bangla that has brought the Uruguayan sensation and Brazilian icon Branco to the city.
After arriving in the stadium around 5.30pm, Forlan kicked off the match between Mohun Bagan XI and Challengers XI, a team groomed and coached by Branco in his 20-odd days stay.
Challengers lost the 70-minute match 0-2 but they stole the hearts of the thousands of football lovers gathered to see Forlan who sat in the dug-out giving tips, sharing his experiences with the Challengers led by Dipyendu Biswas.
To their utmost surprise, Forlan made an appearance in the lemon break and uttered few Bengali words. Waving to the crowd, Forlan said "Jamiyedin-Saradin (Live up, everyday)."
He also thanked the crowd for their huge jubilation from the stands cheering and waving Forlan, Forlan.
The Uruguayan star sat through the entire match and by the time he left the stadium, everybody was just spellbound.
In between, Bengal Sports minister Kanti Ganguly and Mohun Bagan officials felicitated Forlan in a traditional Bengali way, giving him Uttario, as the Latin American star kept on obliging the autograph-hunters.
Firecrackers lit up the YBK skyline as Forlan bid adieu to the city of football with a live performance by Bengali band, Bhoomi, who sang 'Hare Krishna Hare Rama'.
Earlier Sivamani, accompanied by more than 100 traditional drummers (dhakis) gave a live performance to set the tone of the evening.
In December 2008, legendary Diego Maradona had set his foot at the same venue with a similar experience that will stay etched in a football-lover's heart forever.