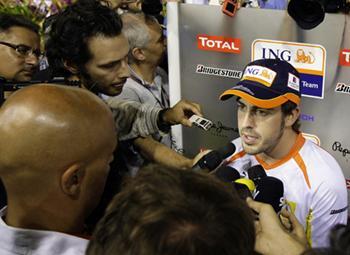 Renault's Fernando Alonso defended his 2008 Singapore Grand Prix win as a proper victory on Thursday despite a race-fixing scandal that led to a suspended ban for the Formula One team.
Speaking ahead of Sunday's race at the same venue, the Spaniard grew more agitated when pressed on his involvement in a race that he won after a deliberate crash by Brazilian team mate Nelson Piquet.
"I regard it as a win," reiterated Alonso saying that he knew nothing of any plot.
"My interpretation of events is how could I win the race. Piquet's crash was in the very early stages of the race which still had a long way to go.
"The car was performing well and I didn't make any mistakes," he added.
On Monday, the International Automobile Federation (FIA) slapped a life ban on former Renault boss Flavio Briatore for his role in the fixing allegations, a five-year ban on deputy Pat Symonds and a suspended permanent ban on the team.
Italian Briatore and Symonds left the team five days prior to the governing body's hearing in Paris, which Alonso attended, after Renault opted not to contest the allegations.
"I was happy to collaborate with the FIA at the meeting and am also happy that everything is clear that I was not involved in what happened," he said.
"That's now in the past and it's time to move on. It's Singapore 2009 not 2008. It's good that the team can put this behind us and can concentrate on the future."
The Spaniard also expressed his annoyance at people who questioned his integrity in the wake of the scandal.
"There is nothing to validate and nothing to prove," he added.
"I've been in Formula One for nine years and have won two world titles. I always give my all. I am here to drive and the car is performing well now and we will target a podium finish.
"The only thing that really matters to me now is this weekend. I will be preparing for this race and will not be looking back, only forward.
"Yes, the events of the past few weeks have gained a lot of attention, including here today. But tomorrow is qualifying and I hope everything will be back to normal," he added.