The Renault team have been given a two-year suspended ban from the Formula One world championship after admitting to race-fixing, the governing International Automobile Federation said on Monday.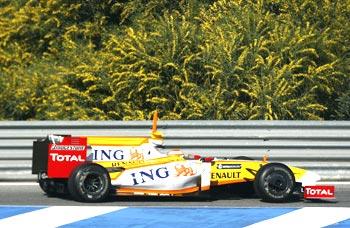 The French car manufacturer, appearing before an FIA World Motor Sport Council hearing in Paris, had said it would not contest accusations the team ordered Brazilian Nelson Piquet to crash his car into a wall at last year's Singapore Grand Prix so that Spanish team-mate Fernando Alonso might win.
"The ING Renault F1 team admitted that the team had conspired with its driver Nelson Piquet Jr to cause a deliberate crash at the 2008 Singapore Grand Prix, in breach of the International Sporting Code and F1 Sporting Regulations" the FIA said in a statement.
The suspended ban will last until the end of the 2011 season.
"The World Motor Sport Council considers Renault F1's breach relating to the 2008 Singapore Grand Prix to be of unparalleled severity," the statement added.
"Renault F1's breaches not only compromised the integrity of the sport but also endangered the lives of spectators, officials, other competitors and Nelson Piquet Jr himself."
Former team boss Flavio Briatore was also banned from any further involvement in Formula One, including driver management.
The team's head of engineering Pat Symonds was banned for five years from FIA-run events.
Double world champion Fernando Alonso was exonerated of any involvement at the hearing.
"Mr Alonso was not in any way involved in Renault F1's breach of the regulations," the FIA said. Piquet Jr had been granted immunity by the FIA before the hearing.
FIA president Max Mosley said after the hearing that the team would remain in Formula One, but Renault F1 chairman Bernard Rey did not comment.