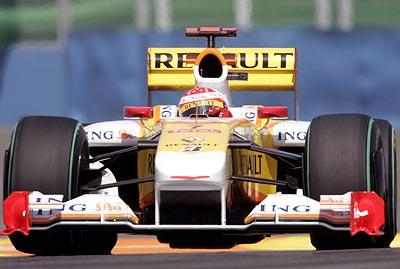 Renault face heavy sanctions when they appear before Formula One's governing body in Paris on Monday to answer race-fixing charges.
The following looks at the main issues:
THE CHARGES
The International Automobile Federation (FIA) has accused Renault of fraudulent conduct and bringing the sport into disrepute by conspiring with Brazilian Nelson Piquet junior "to cause a deliberate crash at the 2008 Singapore Grand Prix with the aim of causing the deployment of the safety car to the advantage of its other driver, Fernando Alonso."
Renault are not contesting the charges.
WHAT HAS PIQUET ALLEGED?
That team principal Flavio Briatore and technical head Pat Symonds asked him before the race to crash his car. Piquet, who had qualified 16th, said he accepted because he thought it would help secure a renewed contract.
The 24-year-old has also alleged that Symonds took him on one side and showed him a map, pointing to the exact corner where he should crash. The corner was chosen because of the difficulty of removing a car from that part of the track.
HOW DID IT COME OUT?
Renault dropped Piquet after the Hungarian Grand Prix at the end of July. On the day of the race, Piquet's father contacted the FIA and told them that his son wanted to make a statement concerning the Singapore Grand Prix.
Piquet junior then signed full statements while Renault team members were questioned at last month's Belgian Grand Prix.
WHO WILL ATTEND THE HEARING?
Senior Renault company officials, lawyers and the 26 members of the FIA's most powerful body, the world motor sport council. They include FIA president Max Mosley and Formula One supremo Bernie Ecclestone. Briatore, who left the team this week with Symonds, is not likely to be present. Piquet and his father should be there while Alonso may also attend.
WHAT PENALTIES COULD BE IMPOSED?
Anying from a reprimand to permanent exclusion from the championship. McLaren were fined a record $100 million in 2007 for a spying controversy involving Ferrari data. The FIA have offered Piquet immunity from punishment.
WHAT ABOUT ALONSO?
The FIA has said it has no reason to suspect that the Spaniard knew anything about the plan and he himself has denied all knowledge.
WHAT HAPPENS IF RENAULT ARE KICKED OUT?
Various deals, particularly for engines, are on hold pending the outcome of the hearing. Williams have been talking to the manufacturer about switching from Toyota while Red Bull are currently supplied by Renault.
The FIA has already lined up the former BMW-Sauber as a 14th reserve team.