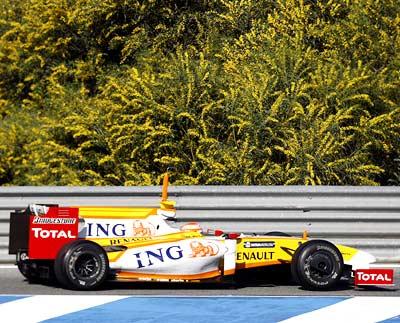 Renault's Formula One future will be decided in Paris on Monday when the governing body rules on a race-fixing controversy that has stunned and shamed the sport.
The French manufacturer has said it will not contest charges that the team ordered Brazilian Nelson Piquet to crash in last year's Singapore Grand Prix so that Spanish team mate Fernando Alonso might win the race.
The former champions could be permanently excluded at the meeting but a heavy fine and/or suspended ban looks more likely despite the unprecedented accusations levelled against them by the International Automobile Federation (FIA).
Even that could be too much to prevent the French manufacturer, hit like the rest of the industry by a sharp drop in sales due to the recession, from following departed Honda and BMW out of a sport reeling from one scandal to another.
Team boss Flavio Briatore and engineering head Pat Symonds have already left, and will not attend the hearing, while Piquet has been offered immunity from prosecution.
"Renault must go in with their hands up, admitting guilt having addressed the issue with the departure of Briatore and Symonds," declared former racer Martin Brundle in a Sunday Times newspaper column.
"They must also demonstrate that they will install a new team principal of perceived integrity. I foresee a sizeable fine for the FIA coffers and a points penalty that will pain the team into next year in regard to revenue and pit lane position."
The FIA has said it has no reason to suspect Alonso knew anything of a plot seemingly agreed between the two team bosses and Piquet.
The double world champion is not completely off the hook however, with Italy's Gazzetta dello Sport newspaper reporting that he has been sent a late summons to attend the hearing.
Neither a Renault team spokeswoman nor the governing body would confirm who would be present.
Alonso, who is widely expected to join Ferrari next year, has already given evidence to investigators who questioned him at last month's Belgian Grand Prix.
Justice must be seen to be done but the FIA will have a difficult decision to make, particularly in the light of the record $100 million fine handed out to McLaren in 2007 for having Ferrari documents in their possession.
The Singapore crash, despite its comparatively slow speed, endangered the safety of others in a blatant attempt to manipulate the outcome of a race.
"The McLaren spying scandal two years ago was extremely serious but mechanics have always discussed technical data among themselves," said retired triple champion Niki Lauda last week.
"This, though, is new. The biggest damage ever. Now the FIA must punish Renault heavily to restore credibility in the sport."