Double world champion Fernando Alonso turned up for a race-fixing hearing on Monday that could determine Renault's Formula One future.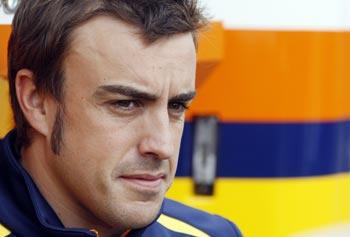 The French manufacturer has said it would not contest accusations the team ordered Brazilian Nelson Piquet to crash his car into a wall at last year's Singapore Grand Prix so that Spanish team mate Alonso might win.
Piquet, who has been offered immunity from prosecution, arrived wearing a suit for the hearing at the International Automobile Federation (FIA)'s Place de la Concorde headquarters in central Paris.
The Brazilian has said in written statements that he was asked to crash at a given point just after Alonso had pitted for the first time in the night race to give the Spaniard an advantage.
Alonso, who showed up for the hearing looking relaxed in a pair of jeans, went on to win the race and record his team's first victory of that season.
Renault F1 Chairman Bernard Rey was accompanied by head of public relations Jean-Francois Caubet for their appearance in front of the FIA's world motor sport council that brings together the key figures in the governing body.
In the most extreme circumstances, the former world champions could be permanently excluded from the championship but a fine and/or suspended ban looks more likely despite the unprecedented nature of the offence.
Some fear that a stiff sanction could push the French manufacturer, hit like the rest of the car industry by a sharp drop in sales due to the recession, into following Honda and BMW out of a sport reeling from one scandal to another.
Former principal Flavio Briatore and engineering head Pat Symonds, the two men alleged to have told Piquet to crash in a meeting before the Singapore race, left the British-based team last week and did not attend the hearing.
The FIA has said it has no reason to suspect Alonso, who is widely expected to move to Ferrari next year, knew anything of a plot seemingly agreed between the two team bosses and Piquet.
However his attendance suggested the Spaniard was not entirely off the hook.