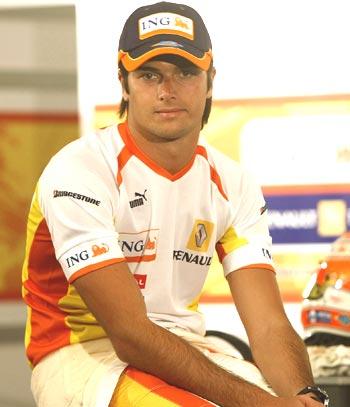 Brazilian driver Nelson Piquet has been offered immunity from prosecution if he tells the truth about his former Renault Formula One team, FIA president Max Mosley said on Friday.
The offer is similar to one made to McLaren drivers in 2007 when that team was being investigated over Ferrari documents found in their possession.
McLaren were fined a record $100 million (60 million pounds) and stripped of all their points in that case but Lewis Hamilton and Fernando Alonso, now with Renault, faced no sanctions after giving evidence.
"He (Piquet) has been told that if he tells us the truth then he will not be proceeded against individually," the head of the governing International Automobile Federation told reporters at the Italian Grand Prix.
Renault face a hearing in Paris on September 21 after the FIA investigated allegations that they ordered Piquet to crash deliberately at last year's Singapore Grand Prix to help team mate Alonso win the race.
If found guilty of fraudulent behaviour and bringing the sport into disrepute, the team could be kicked out of the championship.
Renault have accused Piquet and his father, who shares the same name and was a triple Formula One champion, of making false allegations and attempted blackmail. The driver was dropped by Renault in August after failing to score a point this season.
Mosley stressed that the accusations are unproven but said the Renault case is potentially more serious than the McLaren one of 2007.
He added that Renault has asked for more time to submit documents and has been given until the middle of next week.
MORE SERIOUS
"One of the bad things about McLaren was that they did not tell the truth, so that went against them," he said.
"But on the other hand, what is alleged to have been done here, is probably more serious. But to assess that, it is a matter for the world council, it is not really for me to say."
Mosley said race fixing is "one degree worse than cheating."
"If you're a cyclist and you take dope, that's cheating. If you bribe the other cyclists, or you get somebody to have a crash in the peloton so the yellow jersey guy crashes, that's more serious," he added.
"Then if it puts human life at risk, whether it's the spectators, the marshals or the drivers, then it's more serious again."
Mosley said documents circulating on the internet, including a damning statement from Piquet to the FIA, appeared to be authentic. He also confirmed that there is nothing to suggest Alonso knew anything about any attempt to rig the race.
"I haven't seen anything which I believe to be a forgery," he said, while adding a note of caution.
"We are in a situation at the moment where we have heard one side of the story and have investigated to the best of our ability," he said.
"Now we are waiting for Renault's side of the story, and it is only when we have got both sides, and both of them have been heard, that one can actually reach a conclusion.
"In most places, you assume someone is innocent until they are proven guilty. And that is the situation we are in at the moment."