Fernando Alonso agreed to join Ferrari some months ago, the ecstatic Spaniard said on Wednesday after his three-year deal was announced.
Renault's double Formula One world champion will replace Finn Kimi Raikkonen at the Italian team next season and race alongside Felipe Massa.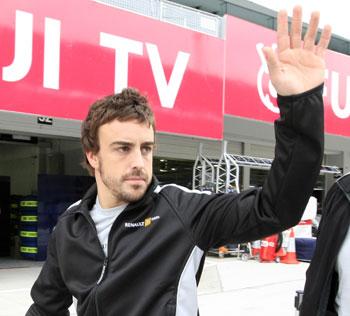 "During the summer we signed a deal starting from 2011 but in recent days the situation changed and we decided to bring my arrival at Maranello forward by a year," Alonso told his website (www.fernandoalonso.com).
"I feel really happy to be able to be a Ferrari driver. To drive a Prancing Horse car represents a dream for every driver in his career and I am lucky enough to realise it.
"I want to thank Ferrari president Luca di Montezemolo, who committed himself to reaching this agreement."
No financial details of the deal were given but Ferrari posted an article on their website (www.ferrari.com) ridiculing some reports and hinting that the 28-year-old would be receiving less than expected due to the global recession.
"Reading certain newspapers one might think that there is a gold rush in Maranello. The numbers talked about have absolutely nothing to do with reality. It's easy to write numbers, forgetting that the world has changed recently," it said.
"At Ferrari a lot of calculating is done and attention is not only paid to the costs of the operational structure, but also as far as the drivers are concerned."
Alonso will race the last three grands prix of the season, starting in Japan on Sunday, with Renault and promised to give his best as a goodbye present.
"All these years at Renault have been great. I hope to get the maximum points possible in the time that remains," said the Spaniard, who won the 2005 and 2006 titles with the French team.
Renault to announce Alonso replacement next week
Renault will reveal their replacement for Spaniard Fernando Alonso next week, the Formula One team said on Thursday.
Poland's highly rated Robert Kubica, currently with BMW-Sauber, is widely expected to join the French manufacturer after Alonso's move to Ferrari in 2010 on a three-year deal was confirmed on Wednesday.
BMW are leaving the sport at the end of the season and the Swiss-based team have yet to secure a definite slot on the starting grid despite new ownership.
Renault wished the double world champion well in a statement at the Japanese Grand Prix.
"The close relationship that Renault and Fernando have enjoyed has been one of the most successful in Formula One, culminating in back-to-back drivers' and constructors' world championships in 2005 and 2006," the statement added.
"The team and Fernando's focus is now on finishing the season on a high note with some strong results in the remaining races.
"An announcement regarding the driver who will be replacing Fernando Alonso at the Renault F1 Team next year will be issued next week."