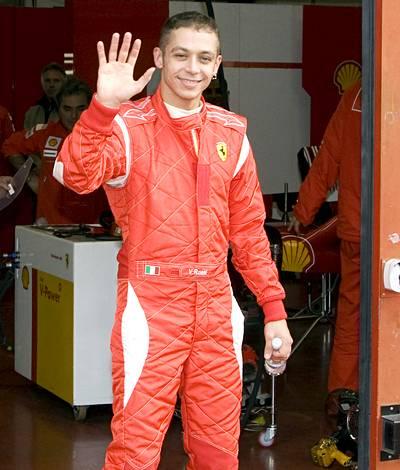 Valentino Rossi talked with Ferrari about racing in the team's second car at next weekend's Formula One Italian Grand Prix but decided against it, the MotoGP world champion said.
"I talked with Ferrari about racing at Monza. But without testing... it would not have been logical," he told Saturday's Gazzetta dello Sport.
Ferrari instead opted for Force India's Italian driver Giancarlo Fisichella, who will race for the world champions for the remainder of the season.
He replaces Ferrari test driver Luca Badoer, who struggled in his two races after coming in for the injured Felipe Massa.
Badoer only filled in because original choice Michael Schumacher had to abort his comeback plans because of an injury to his neck, which needs to be strong to cope with F1 G-forces.
Formula One teams are not allowed to test their current cars during the season.
"We already decided that to enter Formula One without testing is more risky than fun. You can't go there and do everything to understand the car in three days," Rossi said.
"I also don't know if I could have finished the race with my neck. And also, because we're fighting for the MotoGP championship, the race at Monza would definitely have been a big stress and it's better to stay in MotoGP."
TWO WHEELS
Rossi, Italy's best-paid sportsperson, has tested for Ferrari in the past and was close to joining them at the end of 2006 but decided to stick to two wheels.
He considered being the test driver for 2007 and then racing in 2008 but said his Ferrari dream was over for good after opting to stay in MotoGP.
The 30-year-old has though expressed interest in a career in rallying.
Rossi shocked his Yamaha MotoGP team on Friday by casting doubt on his long-term future after they announced last week that Jorge Lorenzo will be his team-mate again next season.
The Spaniard is Rossi's main rival for this year's title.
"I don't know [if I'll change team]. I have a year of my contract still to run and then I'll decide what to do," he said after clocking the fastest time in Friday's practice for Sunday's San Marino Grand Prix.
"The end of this season and all of the next one risk becoming a torment."
Ferrari, a disappointing third in the constructors' standings with five races left, are hoping to change Formula One rules and race three cars next season instead of two.
Team boss Stefano Domenicali said last month that Schumacher could race a third car while Ferrari president Luca di Montezemolo has said Fisichella would be the ideal choice given he will be the team's reserve driver next term.
With Rossi's future unclear, he could become a candidate.
Photograph: Reuters