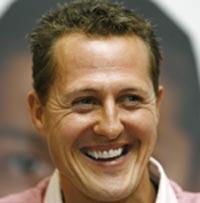 Michael Schumacher continued preparing for his return to Formula One with a second day of kart racing in northern Italy on Thursday.
"We had two very good karting days," the seven times world champion said on his website (www.michael-schumacher.de). "Arms, upper body, shoulders, neck -- an excellent practice indeed."
The 40-year-old German is coming out of retirement to fill in at Ferrari while Brazilian Felipe Massa recovers from injuries sustained in a nasty accident in qualifying at last month's Hungarian Grand Prix.
Schumacher is not allowed to use Ferrari's F60 car before the European Grand Prix in Valencia on Aug. 23 beause the sport's regulations ban track testing during the season.