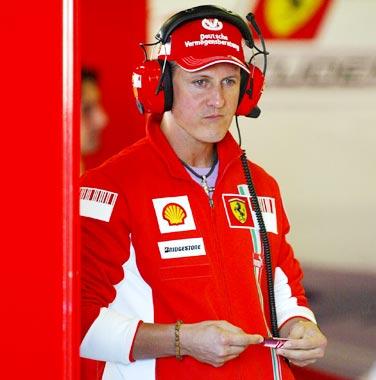 German driver Timo Glock is convinced compatriot Michael Schumacher will make a Formula One comeback with Mercedes next season and is looking forward to racing against him.
"There's still a lot of speculation but at the end he's just a crazy race driver, I would say, and wants to come back," the former Toyota driver told reporters at the launch of his new Virgin Racing team on Tuesday.
"I think it's just not enough for him to just drive go-kart races or the Race of Champions at the end of the year. The flame is just still there, still burning in him and it's great for Formula One if he is coming back.
"I think it is quite obvious that he is coming back, for me as my personal feeling," he added.
Glock made his Formula One debut as a stand-in with Jordan for four races in 2004, the year Schumacher won the last of his seven titles before retiring in 2006 with a record 91 wins.
He said it would be great to race him properly, with the sport's most successful driver 41 years old next year and likely to be far less dominant than in his heyday at Ferrari.
"For Formula One and the fans it's just a big boost again if a seven-time world champion comes back after three years out. It's just a mega highlight. A German driver in a German car, great for everyone," said Glock.
Ferrari, who have a consultancy agreement with Schumacher, said Monday they would not stand in his way of he wanted to race for Mercedes.
The Mercedes team — formerly champions Brawn — is run by Ross Brawn, the former Ferrari and Benetton technical director who helped Schumacher to all his titles.
Schumacher was forced to abort plans for a Formula One comeback with Ferrari because of fitness concerns in August.
He was due to replace the injured Felipe Massa but pulled out following medical checks on a neck injury sustained in a motorcycle accident earlier this year that caused him pain during testing.
Germany's Bild newspaper reported Saturday that Schumacher was close to a deal with Mercedes, whose sportscar team he raced for before entering Formula One in 1991.
Mercedes GP chief executive Nick Fry also said last week that a Schumacher comeback would be good for Formula One.
"A number of drivers are still available if Michael were to decide not to drive," Fry said.
"Then there are alternatives that we would be happy to go with," he added.