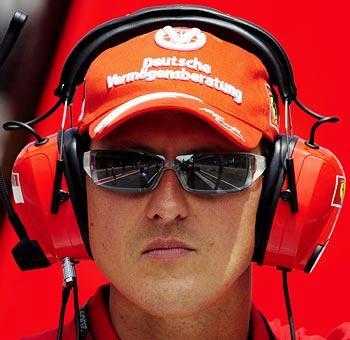 A Michael Schumacher comeback would be good for Formula One, Mercedes Grand Prix chief executive Nick Fry said on Thursday.
Mercedes, who have taken over the title-winning Brawn team, have been linked in media reports with the retired German great now that Britain's world champion Jenson Button has moved from Brawn to McLaren.
Fry refused to confirm any talks with Schumacher, saying only that "we are discussing things with a number of different drivers", but said the sport should welcome the return of anyone of his stature.
"I think whether it be Michael or another prior world champion, I think that just adds another very interesting element," he said at a motorsport business forum in Monaco.
"Can a 40 or 41-year-old compete against someone who is 24 years old? In other sports people have proven that they are very capable even at that age," he added.
"I think that would add another fascinating aspect and I think it is irrelevant whether it is Michael or (Canada's 1997 champion) Jacques (Villeneuve).
"I was joking with Mika (Hakkinen) the other day that maybe he should throw his hand in," said Fry, referring to Finland's 1998 and 1999 champion who has raced for Mercedes in German touring cars (DTM).
Mercedes have signed Germany's Nico Rosberg from Williams from 2010 but have yet to name his team-mate with media speculation swirling around the intentions of Formula One's most successful driver.
The 40-year-old seven-times champion was lined up for a brief comeback this year as a stand-in for injured Ferrari driver Felipe Massa but had to pull out due to his own neck problem.
EXPERIENCE NEEDED
Fry said an announcement on the second driver could come before the Christmas holiday but is more likely to be in early January. He said there are about four names on the shortlist.
"Nationality has got nothing to do with it at all. Mercedes said it would be nice to have a driver who was German and we've got that already with Nico," he said. "It wasn't a big deal from the start, it was a nice one to have."
Fry said previous experience is a far bigger factor.
"We learned very clearly this year that you've got to have two drivers capable of scoring points in every single race and the reason why we won the constructors' championship is because we had that," he said.
"I think with the lack of testing it's very difficult to expect a younger driver to do that. So clearly highest on our list are people with F1 experience."
The Briton expects Rosberg to turn into a winner with Mercedes after four seasons at Williams without a victory.
"I think Nico will flower," he said of the son of 1982 champion Keke Rosberg.
"I am hopeful we will give him a very good car next year. Possibly he has not had the best car for the past couple of years but what he has managed to do is accumulate a huge amount of experience and that is very attractive to us.
"He has got the speed and he has certainly got the genetic structure and I think in our team with (team principal) Ross (Brawn) coaching him he can be a race winner, undoubtedly."