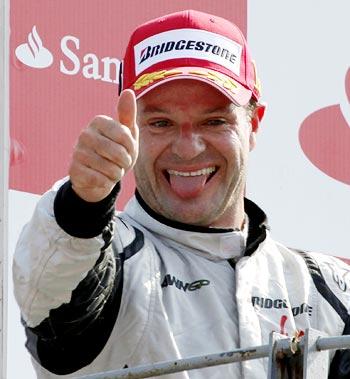 Brawn GP driver Rubens Barrichello said on Tuesday he is in talks with Williams and is sure to remain in Formula One next season.
The Brazilian denied, however, he has already signed a deal with Williams, saying he is also in discussions to renew with his present team.
"That it's true there are talks with Williams and with Brawn, there's no doubt. But that I haven't signed any papers, I can also say I haven't," Barrichello said.
"I read about everything that's been said and made it quite clear that this is a very special moment for me in Formula One," he told reporters.
"Today I feel very honoured that there are teams trying (for me), that there are teams I'm talking to and that my situation is a lot better than for some time."
Barrichello, second in the drivers' championship 14 points behind British team mate Jenson Button, must win his home Grand Prix on Sunday to carry the title decision over to the last race in Abu Dhabi.
Even that might not be enough since Button can lift the title with a race to spare if he comes in third or higher on Sunday.
Barrichello, whose best Brazilian Grand Prix finish at Interlagos was third in 2004 with Ferrari, will base his decision about his future on the most competitive car. Brawn lead the constructors' championship this season, whereas Williams are sixth.
"I'm at a very privileged stage of my career in being able to choose the car in which I'll compete. I very much want a competitive car for next season," he said.
Barrichello, at 37 the oldest driver in Formula One who has raced in a record 286 Grands Prix, believes he has reached the peak of his career.
"It's my best season and the start of reaping things I sowed in the past," said Barrichello, twice title runner-up with Ferrari.
His career could have ended when Honda withdrew from Formula One last season but Brawn have given him a new lease of life with their good results in 2009.