Ferrari's [ Images ] Felipe Massa [ Images ] and former team mate Michael Schumacher [ Images ] completed a one-two finish in a kart race on Sunday in the Brazilian's first competitive event since his life-threatening accident in July.
Race organiser Massa, who suffered a serious head injury during qualifying at the Hungarian Grand Prix [ Images ] and missed the rest of the Formula One season, won Sunday's race ahead of record seven-times world champion Schumacher.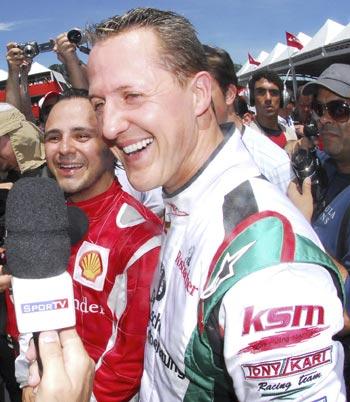 The German lifted the title in the International Challenge of Go-Kart Champions following a victory on Saturday. Massa, third on Saturday, was overall runner-up in the event held in Florianopolis in southern Brazil [ Images ].
"It's fantastic to do a one-two with Felipe. It was like in the old days," Schumacher told reporters after the race in which other current and former F1 drivers took part, including Rubens Barrichello [ Images ] and Force India's [ Images ] Italian Vitantonio Liuzzi.
The 28-year-old Massa will return to Formula One for Ferrari next season alongside Spain's Fernando Alonso [ Images ].
MotoGP champion Rossi finishes second at Monza
Meanwhile, MotoGP world champion Valentino Rossi [ Images ] displayed his passion for four wheels by finishing second in the Monza rally in Italy [ Images ] on Sunday.
The 30-year-old, who won the non-world championship event in 2006 and 2007, drove well in his Ford [ Images ] Focus but was beaten by last year's champion Rinaldo Capello in a Citroen.
Rossi, third in his class in a touring car race last weekend, has considered moving into rallying when his Yamaha MotoGP contract runs out at the end of next year while he is poised to again test a Ferrari Formula One car in January.