Formula One champion Jenson Button cannot expect to cash in from the Mercedes takeover of Brawn even though the team want him to stay, Brawn chief executive Nick Fry said on Monday.
"We've had discussions with Jenson which we think are a sensible salary and this is not going to change anything in that respect," Nick Fry told BBC radio after the takeover was announced.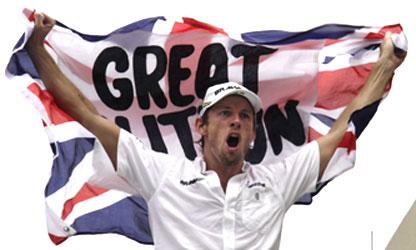 "I hope Jenson will be with us next season, we've worked together for a good few years now and succeeded in winning a world championship together," he added.
"We want Jenson to be with us but we have to recognise that Formula One is not divorced from the rest of the world. We work within a budget and if we spend the money in one area, we can't spend it in another."
Britain's Button took a hefty pay cut to stay with the team this year and ensure their survival after former owners Honda pulled out in December 2008.
He now wants his pay restored to a level more fitting to a world champion, even though salaries are coming down throughout the sport, and has been talking to McLaren about joining compatriot Lewis Hamilton at that team.
ROSBERG MOVE
Nico Rosberg looks sure to join Mercedes as one of their drivers, with speculation that the team could have an all-German line-up with Nick Heidfeld available as his team mate now that BMW have left the sport.
"Clearly Mercedes have been planning for some time to buy in to Brawn and of course they are looking for two German drivers," former team owner turned pundit Eddie Jordan told BBC radio after Monday's announcement.
"So, if that's a German team, that opens the door for Jenson to go somewhere like McLaren and creating this wonder team of British stars."
Mercedes motorsport vice-president Norbert Haug said in a conference call that such talk was wide of the mark.
"This will be an international team like Mercedes is a global player," he said.
"If you look back in our history we very often have been criticised for not having a German driver so we were always open and we took the driver decision always together with McLaren. And this will be the same in the future.
"We want to have the best ones and we definitely do not want to have the pure German team or whatever. It is an international Silver Arrows team."
Dieter Zetsche, chairman of Mercedes'parent Daimler, said Mercedes "certainly would not be opposed if one of them would be German but that is not a pre-requisite that we would give the team.
"Ross Brawn is the boss of the team and it would not be smart for us to dictate to him anything like a driver decision," he said.
"We will talk and listen to what he wants to do and typically agree."
Haug accepted that there would be speculation but hoped there could be an announcement on drivers soon.
"I would rather hope next week but don't kill me if it is a couple of weeks longer," he said. "But I would like to say definitely this year."