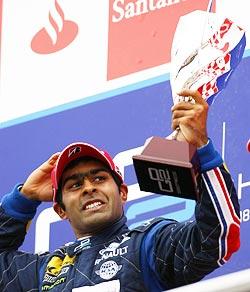 India's Karun Chandhok says he has a real chance of racing in Formula One next year after talks with all the new teams due to enter.
"My father, our sponsors, advisors and I have been quite busy at following the driver market in F1 and making sure we're talking to the right people," the 25-year-old Chennai-born driver said on his website on Wednesday.
"But it's a very complicated time in F1 with a lot of unknowns. We've met with all the new teams and some of the existing ones to explore options for 2010.
"At the moment, I would say there are still three very realistic possibilities to race in Formula One next year but I don't think anything will be public for a few more weeks," he added.
Formula One is due to expand from the 10 teams this year to 13 teams in 2010, despite the departure of Toyota and BMW-Sauber.
Of the new teams, only Spain's Campos Meta has so far named a driver -- Chandhok's former GP2 team mate, Brazilian Bruno Senna.
"Of the 26 pieces in the F1 driver puzzle there are only maybe 10 that are in place so there's still a lot up in the air and I am still optimistic that something will work out," said Chandhok, who has won two races in GP2 and tested for Red Bull's Formula One team in 2007.
Silverstone-based Force India, owned by Indian tycoon and family friend Vijay Mallya, has given Chandhok time in the McLaren simulator as part of an agreement with that team.
Swiss-born racer Neel Jani, who has an Indian father, has also been observed.
Force India have yet to confirm their 2010 line-up but are expected to stick with Germany's Adrian Sutil and Italian Vitantonio Liuzzi, who was the reserve until compatriot Giancarlo Fisichella went to Ferrari in September.
The team will be taking part in young driver testing in Spain in December and that could be an opportunity for Chandhok to try out their car. A Force India spokeswoman said nothing has been decided, however.
India's only Formula One driver to date was Narain Karthikeyan with Jordan in 2005.