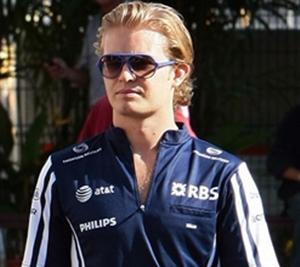 Nico Rosberg [ Images ] will leave the Williams Formula One team after the season-ending Abu Dhabi Grand Prix [ Images ], the German driver said Thursday.
"It is my last race for Williams, and so that's it really," Rosberg told reporters at the gleaming new Yas Marina circuit that makes its debut Sunday with the sport's first day-to-night race.
Rosberg, son of Finland's 1982 world champion Keke, refused to say which team he was switching to.
However, he has been strongly linked to new world champions Brawn, with Britain's 2009 title winner Jenson Button [ Images ] his likely team mate.
McLaren [ Images ], who also have Mercedes [ Images ] engines, would be an alternative.
"It's a bit strange because (it's been) four years, its the only team I've worked with," the 24-year-old said of former champions Williams, the team he joined from the GP2 support series in 2006.
"It's been a long time and I get on with everybody really well. A lot of respect has built up ... so it is going to be quite strange to leave.
"I don't want to talk about my future. I just want to say that I won't be with Williams because that's sure."
Rosberg has yet to win a Grand Prix in 69 starts, with second place his highest finish to date, and he said before the start of the season that he was looking to be in a race-winning car for 2010.
The German is currently seventh in the drivers' standings after 16 races, having scored all of his team's 34.5 points.
Williams, who last won a race in 2004, are expected to have an all-new line-up next season with Brawn's Brazilian Rubens Barrichello [ Images ] and German rookie Nico Hulkenberg tipped by the media to replace Rosberg and Japan's [ Images ] Kazuki Nakajima [ Images ].