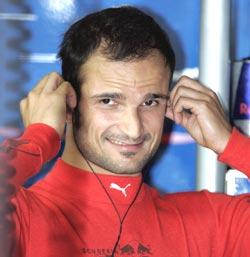 Force India's [ Images ] Vitantonio Liuzzi will drop five places on the Brazilian Grand Prix [ Images ] starting grid and could start from the pit lane due to an unscheduled gearbox change, his team said on Sunday.
The Italian crashed heavily in a rain-hit qualifying on Saturday and had been due to line up 15th on the starting grid for Formula One's penultimate race of the season.
"He may or may not start from the pitlane, depending on the weather," said a team spokeswoman.
The penalty means Red Bull's title contender Sebastian Vettel [ Images ] will take his place on the grid, one slot behind Brawn's championship leader Jenson Button [ Images ].
Button leads Brazilian team-mate Rubens Barrichello [ Images ], who starts on pole position, by 14 points with Vettel two further adrift.
The Briton will take the championship if he finishes third, even if Barrichello wins.