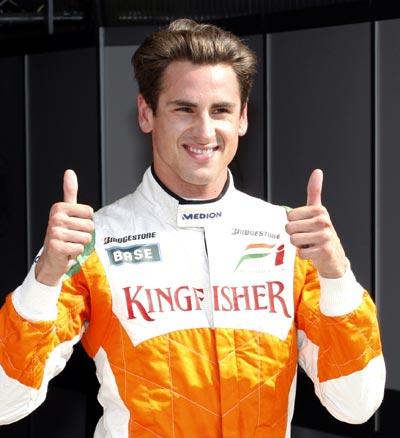 Force India answered any lingering doubters on Saturday by roaring onto the front row of the Formula One starting grid for the second time in as many races.
Team owner Vijay Mallya allowed himself to savour the moment after Germany's Adrian Sutil qualified second at the Italian Grand Prix.
"To all my critics who said Spa might have been a lucky fluke, I hope that this result proves that Spa wasn't a lucky fluke after all," he said.
The team, without a point in 29 races before last month's Belgian Grand Prix, stunned the paddock when Italian Giancarlo Fisichella took pole position at Spa and then seized their first points with second place.
Fisichella has moved on to Ferrari since then but his replacement, compatriot Vitantonio Liuzzi, qualified seventh in his first race since 2007.
"It just shows that we've got it right, the car is very fast and very competitive. The drivers have done a brilliant job," said Mallya.
"A win is too much to ask with the KERS cars and we know that. But there's no reason why we shouldn't target a podium, no reason why we shouldn't hope that Tonio also is in the points," he added.
"And that's a long way forward from where this team has been."
McLaren's world champion Lewis Hamilton starts alongside Sutil but the Briton has the benefit of the KERS energy recovery system that will give a brief but significant boost at the start.
The two drivers behind Sutil, Ferrari's Kimi Raikkonen and McLaren's Heikki Kovalainen, also have KERS which the Force India car lacks but he was still ecstatic.
"I was waiting for this chance for quite a long time," said Sutil. "I would never have thought that we would be able to be on the front row this year, and especially as three or four races ago we were fighting to reach the second qualifying (stage).
"I'm ready for it and now it feels really, really good."
Mallya still refused to take anything for granted.
"If I spoil myself trying to get used to all this, I will only come to grief. There's no point raising the bar of expectation too much," he said.
"We must make sure that we slowly and steadily move up and be really and truly competitive."