Italian Vitantonio Liuzzi will replace compatriot Giancarlo Fisichella at Force India for the remaining five races of the season, the Formula One team said on Monday.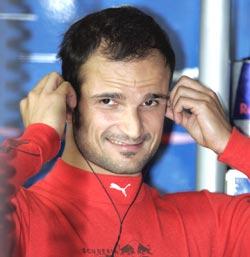 Fisichella joined Ferrari from this weekend's Italian Grand Prix in Monza as replacement for injured Brazilian Felipe Massa.
Twenty-eight-year-old Liuzzi fulfilled the Silverstone-based team's crucial test, reserve driver and development role from the start of the 2008 season and last raced in Formula One with Toro Rosso in 2007, with sixth place in China being his best finish.
Vijay Mallya, chairman of Force India, said, "I'm delighted to give Tonio the opportunity to get back into a race seat, which I know he has been itching for, for the past two years. Force India is now in a very competitive position and we need a driver who can continue this momentum.
"This will be the chance for Tonio to demonstrate to both the team and the field that he has the commitment, speed and professionalism to perform and I am sure he will seize this opportunity."
On getting the chance to show his skills on the race track, Tonio said, "I can't wait to get back into the car in race trim, particularly at my home Grand Prix in Monza. I really appreciate the opportunity Vijay has given me, particularly now that Force India has a great car that's performing very well.
"I'm very motivated, in good shape and hungry to get some more points on the board. Although it's unfortunate that this came about as a direct result of Felipe's accident, this is my opportunity to show people what I can do and I'm really looking forward to it."