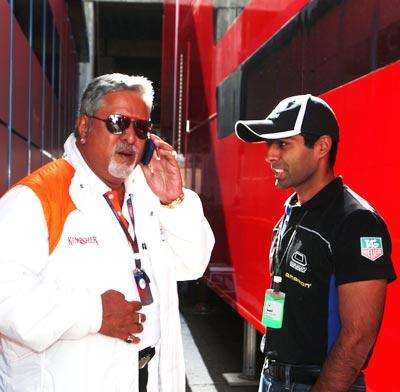 Giancarlo Fisichella's weekend at Spa didn't give him his first Pole position, his first podium, his first points or even his career best result. But standing in the paddock and watching his body language, there was absolutely no doubt that this weekend was the most satisfying result he has had in his career.
To qualify at the front and then race hard to earn a podium finish, less than a second behind one of the three World champions on the grid driving a car from the most iconic Formula 1 team in history, was a tremendous result for Fisi.
But, more importantly, it was an absolutely monumental achievement for Force India. Apart from Brawn GP showing up at Melbourne and walking away with the first race of the year, this has to be the shock result of the season thus far.
It's easy to forget that it was only two years ago that the team called Spyker was cemented on the back row of the grid and to turn that around into a team getting a podium on merit in such a short space of time is hugely impressive. It really is a great testament to all the engineers, designers and people back at the factory who have worked away on a smaller budget than most teams but have channelized their creativity in a very positive way.
After qualifying, a lot of people came to say well done to Vijay Mallya and the team but you could clearly sense their doubt in whether Fisi would be able to stay at the front. When the fuel weights came out, the expressions around the paddock -- admittedly, myself included -- was one of total surprise that the Force India had a very comparable fuel load, indicating genuine front running pace.
On Saturday night, a few of us went for a quiet dinner and Vijay asked me what I thought about the race the following day. I told him I reckoned third or fourth place was on because clearly Raikkonen and the KERS car were going to come through the pack but also Jarno Trulli in the Toyota looked very quick… I was partly right.
Trulli was out of contention after the first lap incident but Kimi and the KERS powered Ferrari would have been very hard to hold off even without the safety car.
It's a great feelgood story. As humans, we love to see the underdogs succeed and it was fantastic to see the entire paddock appreciate the team's result. Points and podiums are worth a lot of prize money to the Formula 1 teams and this will be very valuable for them.
Is this a sign of things to come? Spa is a lower-downforce, high speed track that clearly suited Force India better than most others.
Monza next time out should be very good for them as the team do seem to have fantastic straight-line speed and Singapore after that should be reasonably good as well, as the team have always been competitive on street circuits.
It's certainly a car I would love to drive in the next 5 races.
(Karun Chandhok races for GP2, a feeder series for Formula One)