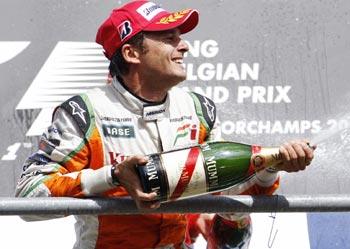 Giancarlo Fisichella will achieve his lifelong ambition and race for Ferrari after Force India on Thursday allowed the Italian to join the Formula One world champions for the rest of the season.
The Silverstone-based team said in a statement that Fisichella, who finished second for Force India in Belgium on Sunday, was free to join Ferrari with immediate effect after "extensive discussions" over the last 24 hours.
Ferrari confirmed the move in a separate announcement, saying they expected Fisichella to make a valuable contribution for the rest of the season.
"Giancarlo and his management team approached me yesterday with the proposal from Ferrari," said Force India team principal Vijay Mallya.
"For any Italian driver, a Ferrari race seat is a long-held dream and for Giancarlo it was no exception. No one should stand in the way of this.
"Furthermore the agreement will secure Giancarlo's long-term future with Ferrari and it would be incorrect to jeopardise this, particularly when Giancarlo has made such a vital contribution to Force India."
Fisichella, 36, replaces struggling compatriot Luca Badoer at Ferrari. Force India, whose official reserve is Italian Vitantonio Liuzzi, said a decision on a replacement would be made in the next few days.
BADOER OUT
Badoer has struggled in two races as a stand-in for Brazilian Felipe Massa, who suffered serious head injuries at the Hungarian Grand Prix in July and has been ruled out for the final five rounds of the season.
The test driver, making a comeback after almost a decade away from grand prix racing, qualified last in Valencia and Belgium and was also last to take the chequered flag in both races.
Mallya's comments suggested that Fisichella, who has won three races with Jordan and Renault, was also likely to replace Badoer as official test and reserve driver next year.
The Indian aviation and liquor tycoon, whose team used Ferrari engines last year before switching to Mercedes units, said there had been no financial settlement agreed with Ferrari.
"This agreement has been made in good faith and for the good of Giancarlo and the sport in general," he said.
"A competitive Italian driver in a Ferrari for Monza is a positive story for Formula One, which can only help raise the sport's profile in these difficult times."
The last Italian driver to win at Monza was Ludovico Scarfiotti with Ferrari in 1966.
"Giancarlo has shown, throughout his long career, that he is fast and competitive and we are therefore proud to be able to run an Italian driver in our home race," said Ferrari team boss Stefano Domenicali.
Fisichella, whose second place at Spa secured Force India's first points in Formula One, thanked Mallya.
"It is true that it has always been an ambition to do this, and for Vijay to have allowed it to become a reality is very generous," he said.
"I hope in my turn I have helped Force India grow up and be on the right path to achieve their own ambitions. They are now a very competitive team and I wish them all the very best."