After 29 false starts, the Vijay Mallya-owned Force India finally nixed the hoodoo and scored their maiden Formula One points with Giancarlo Fisichella finishing second in the Belgian Grand Prix on Sunday.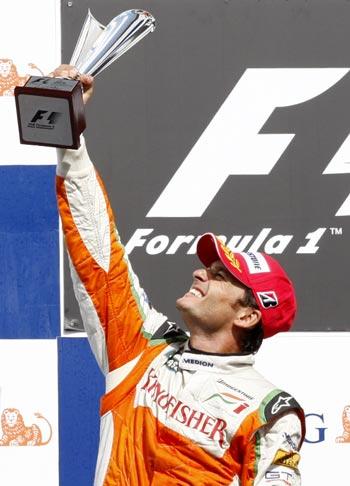 The 36-year-old Italian driver, rumoured to have one foot in Ferrari, shunned extravagance to run a flawless race and trailed Kimi Raikkonen's Ferrari, which had snatched the lead using the Kinetic Energy Recovery System, all the way for a podium finish and earn eight valuable points.
The Italian finished less than a second behind Raikkonen.
Fisichella's Force India teammate Adrian Sutil had a rather rollercoaster outing with the German eventually finishing 11th.
 With this, Fisichella renewed his tryst with Spa, which has traditionally been benign to him.
It was at the same track in 1997 that Fisichella had finished second in a Jordan car.
For a car without the KERS boost, Fisichella displayed amazing racecraft in a race marked and marred by opening lap pile-up, early safety car and pit-stop fumbles.
The opening lap scramble cost defending champion Lewis Hamilton and current drivers' title leader Jenson Button their races as both spun off.
The turn five mishap also ended the race for Renault rookie Romain Grosjean and Torro Rosso's Jaime Alguersuari.
Raikkonen wins
Meanwhile, Raikkonen won the Belgian Grand Prix for Ferrari's first win of the Formula One season after championship leader Jenson Button crashed on the opening lap.
Germany's Sebastian Vettel was third for Red Bull.
Raikkonen, the 2007 world champion, has now won four times in the past five years at Spa. Sunday's success was the Finn's first win in 26 races and 18th of his career.
Button's failure to score points for the first time this season left the Brawn driver 16 points clear of Brazilian team mate and closest rival Rubens Barrichello, who collected two points for seventh place.