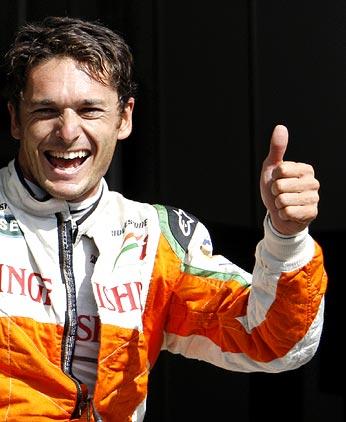 Italian Giancarlo Fisichella did his utmost to impress Ferrari with a jaw-dropping pole position for Force India at the Belgian Grand Prix on Saturday.
With compatriot Luca Badoer spinning out and qualifying last for the second race in a row as stand-in for Ferrari's injured Brazilian Felipe Massa, Fisichella saw his chance and grabbed it with both hands in a qualifying session that almost defied belief.
Force India have yet to score a point in 29 starts and never before had they come remotely close to pole position.
Fisichella was delighted for the Mercedes-powered team but could not hide what was really on his mind.
The next race after Belgium is Monza, Ferrari and Fisichella's home race, and the odds appear stacked against 38-year-old Badoer being retained.
"It's always a dream for all the drivers in Formula One and even the other categories to drive for Ferrari, especially for an Italian driver like me. And so far it is still a dream," Fisichella told a news conference.
"Considering the result of today, I need to think about that and if they are going to call me.
"But I'm just concentrating on Force India, the season and the race tomorrow and then we'll see.
"I don't want to think about the next race, if I am there (with Ferrari) or in Force India. I have a contract with Force India and I have no contract with Ferrari."
LUCKY RABBIT
Fisichella had made a seemingly inauspicious start to the day when he hit a rabbit in practice, damaging his front wing.
The Italian turned that into a positive, however.
"My engineers told me that in England when you do something with a rabbit it brings you luck," he said. "That was true. So next time I will go around the circuit to find some more rabbits."
With a previous highest grid position this season of 13th in Monaco, Fisichella is likely to be running quite a lot lighter than the championship contenders behind him but points are surely within his grasp.
Asked directly whether he was putting on a show to get the Ferrari drive, the Roman replied: "Luca today is again last and he had an accident but it doesn't mean anything. He is still learning.
"For sure my result is something incredible. It's a great day, but I want to do the best and just concentrate on the race tomorrow," he added.
It was perhaps no coincidence that the top three on the starting grid are all drivers with an uncertain future and with teams who also have a pressing need to make a strong impression.
Fisichella is out of contract with Force India at the end of the season and is unsure about his future.
"Today was something good to go ahead for the future. I'd like to be still a Formula One driver but obviously I need a car to be competitive like today," he said.
Second-placed Italian Jarno Trulli's Toyota team have yet to win a race since their debut in 2002 and are waiting to hear from Tokyo what kind of a budget they have for next season.
Trulli has also been told by Toyota that he is unlikely to be retained.
Third placed German Nick Heidfeld's BMW-Sauber outfit are urgently seeking new owners after BMW announced they were withdrawing at the end of the year.