- Images from the Games: Day 1 | Day 2 | Day 3 | Day 4 | Day 5 | Day 6 | Day 7 | Medals Tally
Krishna Poonia led an unprecedented sweep of all the medals in the women's discus throw at the Commonwealth Games on Monday.
The Railways athlete from Rajasthan led a historic Indian 1-2-3 by hurling the disc to 61.51 metres and became the country's first woman in 52 years to win the gold on a day the Games was rocked by its first doping scandal, woman's 100m champion gold medallist Osayemi Oludamola of Nigeria returning a positive test for a banned stimulant.
Poonia is the second Indian athlete after Milkha Singh (1958, Cardiff) to garner a gold in track and field. Her triumph enabled the country equal its previous-best gold medal haul in the Games' history.
India had won 30 gold at Manchester eight years ago.
Harwant Kaur (60.66m) and National record holder Seema Antil (58.46m) bagged silver and bronze respectively.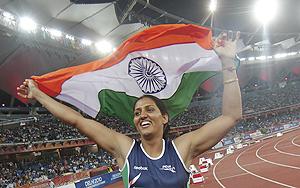 The trio's effort lifted the host country's tally in athletics to a record seven medals.
The 28-year-old Poonia achieved her gold-winning throw in her first attempt while fouling in three of her six throws.
Harwant achieved her silver-winning throw in her third attempt while Antil's second attempt was good enough for the bronze.
The 30,000-odd crowd at the showpiece Jawaharlal Nehru Stadium reverberated with deafening applause when the three Indian women ran a lap of honour after creating history.
An emotional Milkha Singh came down from the VIP grandstand to the ground and hugged Poonia and congratulated her.
It was a poignant moment for all those present at the stadium as three Indian flags were hoisted amidst singing of the national anthem, after Commonwealth Games Organising Committee chairman Suresh Kalmadi and secretary-general Lalit Bhanot presented the athletes their medals.
Rajasthan girl Poonia though could not go near her personal and season's best of 63.69m, while Antil's effort was much below her season's best of 59.51m or her national record of 64.84m which she set in 2004.
It was a glorious day for India but there was no competition from the two other medal contenders – defending champion Beatrice Faumuina of New Zealand and Elizna Naude of South Africa -- who put up disappointing performances.
The event was also hit by the withdrawal of World champion Dani Samuels of Australia on security and health concerns.
Naude, who is the season's leader among the participating Commonwealth athletes in the absence of Samuels, could only throw the discus to 57.61m and finished seventh, while her season's best stands at 64.49m and personal best at 64.87m.
Kiwi Fuamuina had been in declining form for the past few years and she could clear 57.79m to finish fifth while her season's best stood at 61.11m and personal best of 68.52m.
Poonia later dedicated the gold medal to the "all the Indians" who have waited for so long to win a Commonwealth Games gold.
"I dedicate this gold medal to all the Indians who have waited for so long. I am so happy that I have done the country proud by winning a gold in the Commonwealth Games after 52 years. It is amazing. It cannot be better than this. With this clean sweep of the medals I think we have wiped out everything bad that had happened before the Games," she said after the historic moment.
"I had a back injury but my coach supported me and pressurized me to do my best. I cannot express my happiness for all the support I have got. I thank all my supporters," she said.
"I will prepare for the Asian Games and now we can hope for the gold in 2012 London Olympics," she added.
Harwant said she was happy that she was able to win a silver for the country.
"I did not do my best but I am happy that I won a silver. We three were always together and so we are happy to make India proud. We should now look for a medal in 2012 London Olympics," she said.
Antil, however, took a dig at Milkha Singh, who had earlier stated that India would not do well in the Games.
"I think we should take the medals to Milkha Singh and show it to him that we can also win medals. My performance was not worth a medal but the crowd has made it possible."