Legendary athlete Milkha Singh on Monday lashed out at the Commonwealth Games Organising Committee (OC) for not giving former sportspersons a prominent place during the spectacular opening ceremony of the Games in New Delhi on Sunday.
Milkha, who won gold in 440-yard race in the 1958 edition of the Commonwealth Games in Cardiff, said former athletes who had brought laurels for the country were not allowed entry through the VIP gate.
"We were told to enter from gate number 14. Why weren't we allowed entry from the VIP gate? Sportspersons who have brought laurels to the country, be it at the Olympics, Asian Games or Commonwealth Games, should have been given a prominent place during the opening ceremony," Milkha said.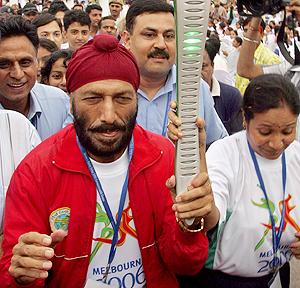 "I had written to (OC chairman) Suresh Kalmadi two months back suggesting that these former athletes be seated at a separate gallery at the stadium so that people can recognize their effort and see that they have toiled hard to bring laurels to the country," he told Times Now.
He also said that he was very sad not to see other former athletes like P T Usha, S Sriram and even India's only cricket World Cup-winning captain Kapil Dev at the ceremony.
"Lots of former athletes who have brought laurels to the country were not there and I came to know that they were not invited. We have Kapil Dev, S Sriram, P T Usha but they were not given their due," he added.
Two days back, Milkha had said that he was "shocked" that P T Usha was not invited for the opening ceremony.