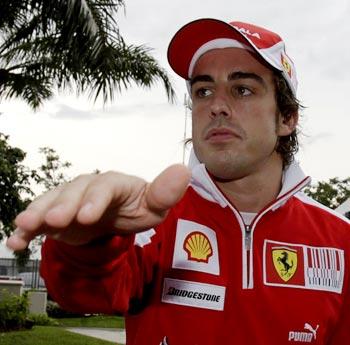 Fernando Alonso is looking forward to a sea of blue in the grandstands at his home Spanish Grand Prix on Sunday even if Ferrari's passionate fans usually wear red.
The double world champion, the only Spaniard to have won a Formula One Grand Prix, can count on strong support from his native Asturias region where locals fly a pale blue flag with a yellow cross.
That chimed perfectly with the old corporate colour scheme at Renault, for whom he won in Spain in 2006, but less so with his new employers whose identity has been proudly red for more than 60 years.
However, the driver's manager Luis Garcia Abad said that a merchandising agreement had been reached with Ferrari for blue shirts bearing Alonso's signature, the Ferrari prancing horse motif and cross of Asturias to be produced.
Asked how many have been sold so far, he shrugged his shoulders and grinned. "Ask me on Sunday," he replied.
Alonso, racing at home for the first time as a Ferrari driver, left no doubt about his happiness to be back on home soil after four long-haul races in the Middle and Far East.
"These are very, very important days for me and I try to enjoy them as much as I can," he told a news conference at the Circuit de Catalunya.
"I know that I'm in a privileged position, with all the supporters here that maybe I won't experience any more in the rest of the championship when I go to some other races.
"I expect a lot of red in the grandstands but the majority will be blue because there is always a good percentage of the grandstand that comes from my region," he added. "Plus (there is) the new Ferrari T-shirt that is blue which will hopefully help all these new people buying blue Ferrari shirts."
Red Bull's Sebastian Vettel, sitting next to the red-shirted Spaniard, was also feeling blue -- but more because of the unseasonally cold weather.
"I'm not quite sure if we are in the right country," shivered the German, a closely cropped haircut replacing the shaggy growth of previous races.
"Usually it is always sunny. It's quite cold I think for Spain, but it should help us coming from the north. We are used to this kind of weather," added Vettel, who has been on pole in three of the four races but won just once.
"We try our best," he said when asked about his team's prospects at a circuit that has rewarded the driver on pole for the past nine years.
"Similar for all the teams in the top. You try to at least stay where you are if not make a step forward, so we brought some new parts.
"I had a haircut. I saw Fernando had one too. I dropped more than he did, so I hope that our car will make a bigger step than his and we can stay ahead," he added with a smile.