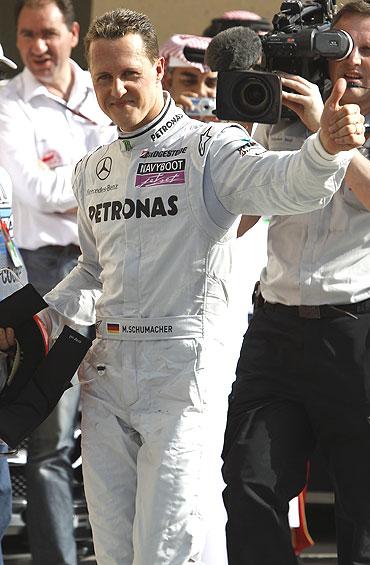 Michael Schumacher strapped himself back into a Formula One car in the desert heat on Sunday to subject himself to the sort of ordeal that would wither men half his age.
He said he enjoyed it.
The seven times world champion, kicking off his comeback with Mercedes at the age of 41 and after three years away, laboured for one hour and 40 minutes to finish sixth in the season-opening Bahrain Grand Prix -- a gain of one place from where he started.
If he was in any way disheartened, after all the hype of returning with a team that won the championship last year under the name of his friend and team boss Ross Brawn, it was not apparent.
"It was a lot of fun, my start was quite good, everything worked well. I had some concerns before but the race was not very exhausting for me," said the German.
Mercedes F1 team managing director Nick Fry backed that up.
"Michael is in great spirits. He's obviously enjoyed himself and I think that's the main thing," he told reporters.
"He came back because he knew he enjoyed racing in the past and I think he's confirmed that he's going to enjoy racing in the future.
"I think for us that's the most encouraging thing. He looks fresh as a daisy, as he did in the past," added Fry.
"As usual he and Ross are sitting in a lengthy engineering meeting developing a list of things to do so I think it's a bit like old times."
If only that were true. Schumacher, who last raced with Ferrari in 2006, said plenty had changed since then with the ban on refuelling and the different tyres taking some time to get used to.
With little overtaking, and none of the controversial skirmishes that have punctuated Schumacher's career since his debut in 1991, the great German had a quiet afternoon apart from the sun getting in his eyes towards the end.
"After the start, which was exciting, it was sort of what we expected from the new rules," he said. "You have some fights at the beginning and then it stops.
"The one stop (for tyres) brings a little bit of movement but not much, and then it's nearly impossible to overtake...you have to get used to it."
Brawn recognised that Mercedes, who took over his team after last season, had work to do to catch up with his and Schumacher's old employers Ferrari.
"We were not quick enough today and our race pace was not there to finish further up the field and challenge for a podium position," he said.
"We have some hard work ahead but I am confident that we can progress the car strongly in the next few races," he added.