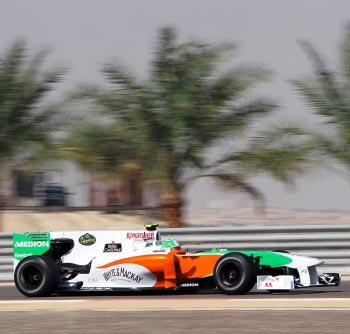 Germany's [ Images ] Adrian Sutil [ Images ] stole some of the limelight from Michael Schumacher [ Images ] in Bahrain on Friday by putting Force India [ Images ] on top of the timesheets in first practice for the Formula One season.
Sutil lapped the newly extended Bahrain Grand Prix [ Images ] circuit in one minute, 56.583 seconds while seven-times champion Schumacher, making his comeback with Mercedes [ Images ] at the age of 41, was 10th and 1.079 seconds slower.
Spain's double world champion Fernando Alonso [ Images ] limbered up for his Ferrari [ Images ] race debut with the second best time, 0.183 off Sutil's quickest effort, although practice times can be misleading due to differing fuel loads.
Poland's Robert Kubica [ Images ] was third for Renault [ Images ], Alonso's former team with their new yellow livery, ahead of Ferrari's Brazilian Felipe Massa [ Images ] returning from the serious head injury suffered last year.
World champion Jenson Button [ Images ] was fifth, one place ahead of fellow-Briton and McLaren [ Images ] team mate Lewis Hamilton [ Images ].
All eyes were on Schumacher's return after an absence of three seasons, as well as the three all-new teams making their grand prix debut.
With Mercedes returning as a works team for the first time since 1955 after taking over champions Brawn, Schumacher had a low-key morning with a lap more than 0.4 seconds slower than young German team mate Nico Rosberg [ Images ].
Virgin Racing claimed some immediate bragging rights, with Germany's Timo Glock [ Images ] in 19th place -- and 7.097 seconds off the pace -- ahead of the two Lotus cars driven by Finland's Heikki Kovalainen [ Images ] and Italian Jarno Trulli [ Images ].
The session also marked the comeback of the Lotus marque after a 16-year absence, with Trulli the first driver out on the circuit.
The Senna name returned to Formula One at a grand prix weekend for the first time since the death of Ayrton at Imola in 1994, when the late Brazilian triple champion's nephew Bruno carried out an installation lap for HRT (Hispania).
The car highlighted a lack of sponsors with the name Bruno in large letters on the side.
Senna did not complete a timed lap but at least ventured out on track with 21 minutes of the session remaining in a car that has kept mechanics busy since the team won their race to be present in Bahrain.
Indian rookie team mate Karun Chandhok [ Images ] had to sit out the session.
Photograph: Force India