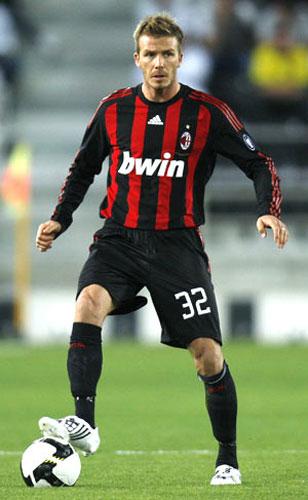 AC Milan midfielder David Beckham returns to Old Trafford for the first time in seven years on Wednesday and fully expects to face Manchester United striker Wayne Rooney.
In-form England forward Rooney, who scored twice in United's 3-2 first leg win, is a doubt for the Champions League last-16 return match due to a knee problem.
"I'm sure Rooney will play. I think he's had some problems in the last few days but he had the whole weekend to recover," former United player Beckham told Milan's TV channel on Monday.
"He's a fine player and he'll want to participate in the match. Alex Ferguson will certainly use the best possible formation."
Former England captain Beckham, 34, won the 1999 Champions League with United before leaving for Real Madrid in 2003 amid media reports of tension with manager Ferguson.
"Alex Ferguson gives a lot of advice to players and he's one of the best football coaches. He protected his players but he made me understand when I was making a mistake," said Beckham.
"If I play on Wednesday I won't be frightened but I will be excited because I played in that stadium for many years and I know what it means to be a Manchester United player. I know what it means for opponents to play there."
Beckham, who started the first leg, is not sure of playing on Wednesday as Alexandre Pato, Clarence Seedorf and Gennaro Gattuso are available again for Milan.