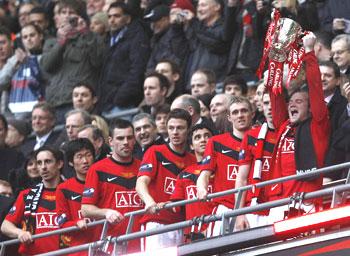 Wayne Rooney continued his remarkable scoring streak with his 28th goal of the season to seal Manchester United's 2-1 win over Aston Villa in the 50th League Cup final at Wembley Stadium Sunday.
Rooney, who came on as a substitute for United's other scorer Michael Owen, struck with a superbly executed header after 74 minutes for his 20th goal in his last 20 matches as United became the first team since Nottingham Forest in 1989 and 1990 to win the cup in successive seasons.
Rooney, who started on the bench as he had a sore knee, told reporters: "It's great to have this cup again, it means a lot to win a Wembley final and I am delighted to score the winner, but it's another great day for the club and the fans."
Aston Villa, the first winners of the trophy in 1961, and victors over Manchester United in 1994, took the lead after five minutes when James Milner scored from the penalty spot, but were often second best against a dominant United who also hit the post twice.
Villa manager Martin O'Neill thought United defender Nemanja Vidic should have been sent off for his foul that led to the penalty.
He told reporters: "It was plain for all to see. It was an inexplicable decision. I don't understand it.
"It's a goal scoring opportunity. He's felled in the penalty area. It's straightforward from an otherwise fine referee who's got it wrong."
Owen brought United back into the game with a 13th minute equaliser, swept home with a sweet first touch which would have impressed the watching England manager Fabio Capello. However, he was forced off after 42 minutes with a hamstring injury.
United also went close to scoring when Ji-Sung Park hit the post and Rooney headed against the post two minutes after scoring. Villa also hit the woodwork when an Emile Heskey header bounced off the United bar late in the game.
LUCKY VIDIC
Despite their undoubted superiority the outcome might have been very different if Vidic had been dismissed for his challenge on Gabriel Agbonlahor which led to Villa's penalty.
Vidic tugged at Agbonlahor's shirt and tripped him with an out-stretched leg. He was extremely fortunate not to be shown either a yellow or a red card by referee Phil Dowd.
Vidic said afterwards: "I don't think I deserved a red card as I did not tackle him from behind. But I admit it was definitely a penalty and if you look at the TV you will be able to see clearly the angle and be able to judge it better."
However, United were punished when Milner swept home the penalty, sending goalkeeper Tomasz Kuszczak the wrong way.
Agbonlahor continued to stretch the United defence, without injured centre-back Rio Ferdinand, every time Villa attacked, but while they could not add to their early goal, United did find a way through the Villa backline after 13 minutes.
Dimitar Berbatov took the ball out of Richard Dunne's possession on the right flank and surged towards goal before Dunne recovered with a fine tackle, but sent the ball straight to Owen who instinctively swept the ball into Brad Friedel's bottom-right hand corner.
Seven of Rooney's last eight goals have come from headers and Sunday's latest effort was the perfect example of bravery under pressure as he powered the ball high into the net. The cross was a perfect one too from Antonio Valencia who was named as Man of the Match.
Villa tried desperately hard to equalise in the closing stages and went close twice but in the end the better team won to secure their fourth victory in the competition and gave United manager Alex Ferguson the 44th major trophy of his managerial career.