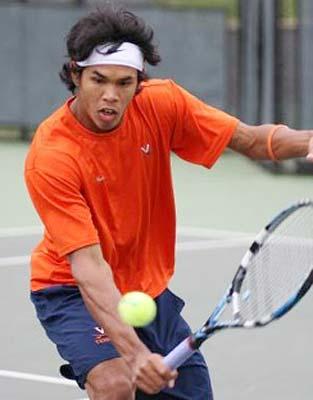 Disappointed with Somdev Devvarman's tame defeat against Mikhail Youzhny, India's Davis Cup captain S P Misra advised the youngster to add some more weapons to his game, saying mere a baseline approach would not win him matches against top players.
Somdev was outclassed by world number 13 Youzhny in the crucial fourth rubber, which India needed to win to stay in the tie.
India lost the tie 2-3 to Russia and would have to compete in the play-offs to qualify for the elite 16-team World Group.
Somdev has stunned a few higher-ranked players but Misra said competing against top-25 players is an altogether different ball game and he has to bring variety in his game.
"Somdev was a big disappointed today. He was outplayed. He was never in the match. Youzhny did not give any chance and hit amazing winners. Somdev was not focussed and did not have big shots to counter him.
"He should bring in some change (in his game). Playing just from the baseline may not help at this level. He has to come to net more often and volley more," Misra said.
"He has an American coach and they are working on it. And it's only them to decide. I can only advise," he added.
Misra, the non-playing captain, though extremely happy with the way Rohan Bopanna played. Bopanna beat Teimuraz Gabashvili, who is more than 300 places above him in the world ranking, in the dead fifth rubber to end the tie on a winning note for India.
"Rohan was revelation in this tie. I think, we had underestimated him but he really played well. Gabashvili is not a bad player, it was not easy to beat a player like him.
"Bopanna has improved a lot I am glad that we chose him over Sanam Singh for the second singles," Misra said.
The former Davis Cupper exuded confidence that India would fight well in the play-offs and again qualify for the World Group.