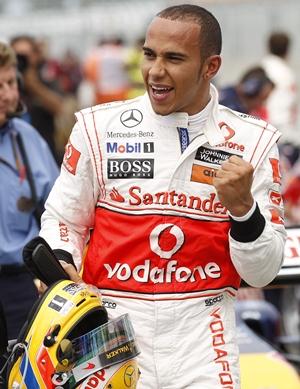 Lewis Hamilton has unfinished business to put right in Valencia this weekend in a European Grand Prix that promises trebles all round for the Formula One championship leader and his McLaren team.
The Briton finished runner-up in the only two races held to date on the Spanish street circuit but this year looks very much like it could be third time lucky for the fired-up 2008 world champion.
Hamilton is chasing his third win in a row, something he has yet to achieve in a stellar career that has already delivered so much in such a short period, while McLaren are targeting their third successive one-two.
World champion Jenson Button, who is also chasing his third win of the season, is just three points behind his younger McLaren team mate.
McLaren, who last racked up a hat-trick of one-two finishes when Alain Prost and the late Ayrton Senna were together in 1988, let Hamilton down with a poor pitstop last year after he started on pole but have got everything right of late.
"I'm really looking forward to racing in Valencia. I had a great, attacking race there last year but I've finished second for the past two seasons, so I feel like I have some unfinished business," said the 25-year-old.
"The last few grands prix have had some fantastic racing," he added. "It would be great for all the Spanish fans if we can have a great race here too.
"It's not a circuit where we've seen too much passing in the past, but I think this year could be different: The grid is so tight, there were battles all through the field in Montreal last week, so I think we could have a close and exciting race."
Formula One has already seen five different championship leaders in eight races with the top five separated by a mere 19 points.
ALONSO HOMECOMING
"I think Valencia plays to McLaren's strengths again, there's a predominance of straight line advantage there," said Red Bull boss Christian Horner after a Canadian Grand Prix that saw his team's run of pole positions end and Australian Mark Webber lose the championship lead.
While McLaren are the favourites, and Red Bull will be hoping to hit back against them, the local fans will be expecting another red letter day for Fernando Alonso.
The Spaniard's Ferrari team have not won since his victory in the Bahrain season-opener but have some big developments for this race including a new configuration for the exhaust system to improve aerodynamic efficiency.
Valencia also has plenty in common with Montreal's Circuit Gilles Villeneuve, where Alonso finished third and said he might have won had backmarkers not got in the way.
"Obviously it's the second home race for me after Barcelona, so I'm hoping to do well there, hoping to be on the podium. I've never been on the podium in Valencia, so it will be a nice feeling in front of the crowd," he said.
"Hopefully we can see a competitive Ferrari in Valencia...I expect a very strong Ferrari again and the circuit layout is quite good for us."
Alonso's Brazilian team mate Felipe Massa will be hoping to become the sixth different winner in nine races. He won in Valencia from pole in 2008 but was absent last season after his big accident in Hungary.
At the slower end of the grid, newcomers Lotus are celebrating their ninth race and the marque's 500th with Clive Chapman, son of late founder Colin, in attendance.