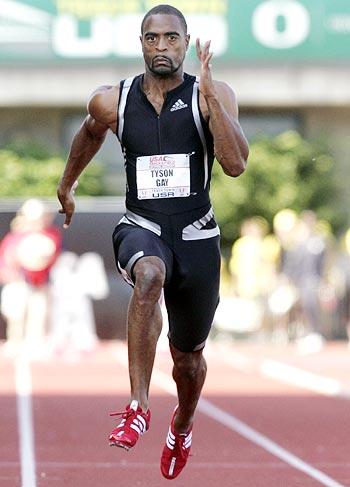 Former world champion Tyson Gay's fitness level is likely to keep him out of Saturday's New York Diamond League meeting, his agent said on Monday.
"It looks very unlikely he will compete," Mark Wetmore said in a telephone interview from New York. "There's a readiness (needed) to run the 100 metres, and he does not have that."
Gay, the world's second fastest man, had been expected to challenge Jamaican 100 metres world record holder Usain Bolt at New York, but Bolt withdrew through injury last week.
Wetmore, who is both Gay's agent and the New York meeting organiser, added his client was not injured, just not in a state of "preparedness" and had also been advised by world renowned Munich sports doctor Hans-Wilhelm Mueller-Wohlfahrt not to run.
Gay looked especially sharp in his early races, setting a lifetime 400 metres best of 44.89 seconds, which made him the first sprinter to break 10 seconds in the 100 metres, 20 seconds in the 200 and 45 seconds in the 400.
He broke another barrier last month, running the fastest 200 metres straightaway in a Manchester, England street race.
"Certainly in Manchester it looked good," Wetmore said. "But I think it is just a situation where it could be risky for him to run (this weekend). That's the last thing we want."
Groin surgery in November slowed Gay's early preparations and he needed time to cover from the Manchester race, Wetmore said.
"He has been in full training since then. ... he's just unfortunately not going to be ready," Wetmore said.
Gay's Diamond League schedule should otherwise remain the same, beginning with a 200 metres in Eugene, Oregon on July 3, Wetmore said.