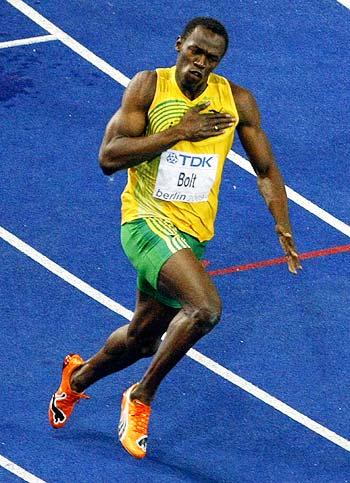 Triple Olympic and world champion Usain Bolt will get an early look at the 2011 world championships site when he runs a 100 metres at Daegu, South Korea on May 19, his manager and organisers said on Monday.
The race will be the Jamaican's first 100 metres of the season and his first visit to South Korea.
It will precede Bolt's previously announced 200 metres at the Shanghai Diamond League meeting on May 23.
"He has tremendous support in Korea and everyone here expects another record from him," Dong-Hoo Moon, co-president of the Colorful Daegu Pre-Championships Meeting, said in a statement on the event's website.
Bolt holds the world record at both distances, having run 9.58 and 19.19 seconds at the 2009 world championships in Berlin.
The 2011 world championships are scheduled for Aug 27-Sept 4 in Daegu.
Bolt has eight confirmed races for 2010 with more announcements expected shortly, his management company said in a statement on its website.
The 23-year-old will lead Jamaica in a 4x100 metres relay at the Penn Relays in Philadelphia on Saturday, then open his individual sprint season with a 200 metres in Kingston on May 1.
After races in Daegu and Shanghai, Bolt will chase the 300 metres world record at Ostrava, Czech Republic on May 27.
Diamond League meetings in New York (June 12), Paris (July 16) and Brussels (Aug 27), all at 100 metres, also are on his schedule.
Three other Diamond League appearances are to be announced as part of his contract with the new global circuit.