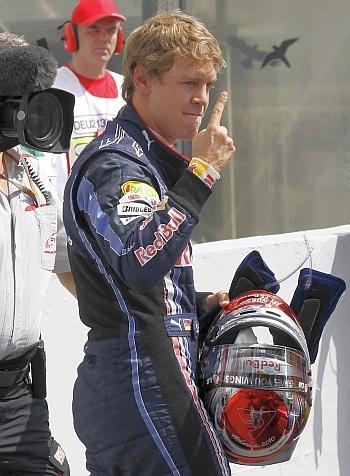 Germany's Sebastian Vettel stormed to his fourth successive pole position on Saturday in a Red Bull sweep of the Hungarian Grand Prix front row with Australian Mark Webber.
Vettel's seventh pole of the season was also Red Bull's 11th in 12 races and they looked utterly dominant at the twisty Hungaroring, a slow circuit where overtaking is difficult and grid position crucial.
"It's good to be on pole," grinned Vettel, his understatement as glaring as his supremacy.
"I think we have been there a couple of times this year. I'm confident for tomorrow that we have a very good chance to win," he added.
The gap between the 23-year-old and Webber was a cavernous 0.419 seconds and the Australian could only congratulate his team mate, who bizarrely described the tricky circuit as "like a woman alongside you that doesn't behave well."
"We weren't quick enough today," said Webber, referring to himself and looking deflated at the prospect of following his team-mate around on Sunday.
"We could have done better of course so we deserve to be second.
"It's going to be an interesting start and then after that we know with these regulations the race can be interesting in terms of trying to stay awake.
"Let's see how the start goes and then after that we will try and stay awake," he added.
Ferrari filled the second row, with Fernando Alonso lining up alongside Brazilian Felipe Massa -- qualifying without incident after suffering life-threatening head injuries at the track a year ago.
DOMINANT AND UNTOUCHABLE
Alonso, winner at the previous German Grand Prix in a cloud of controversy over Ferrari's use of banned 'team orders', was a hefty 1.2 seconds slower than Vettel and said third was the best he could have hoped for.
The Spaniard, like Webber, was also none too hopeful of beating Vettel and described the Red Bulls' performance so far as 'dominant and untouchable'.
"We know the track is difficult to overtake on," he said.
"The start, the first corner, first lap will be 60 or 70 percent of the final result," he added.
McLaren's championship leader Lewis Hamilton qualified in fifth place while world champion team-mate Jenson Button, second overall and 14 points behind his fellow-Briton, qualified a disappointing 11th.
"Your target is always pole, but the Red Bulls are impossible to beat, they are 1.7 seconds ahead," Hamilton told television reporters.
"For Jenson and me, we just look at the onboard footage and laugh. I don't know what they (Red Bull) are doing but it's incredible," he added.
Renault's Russian rookie Vitaly Petrov out-qualified Polish team mate Robert Kubica for the first time this season, the two lining up seventh and eighth.
Seven-times world champion Michael Schumacher failed to make the top 10 for the fourth time in the last five races for Mercedes while team mate and fellow-German Nico Rosberg will start sixth.
Spain's Pedro de la Rosa, who had his career best result in Hungary when he finished second to Button in 2006, lines up ninth with German Nico Hulkenberg 10th for Williams.