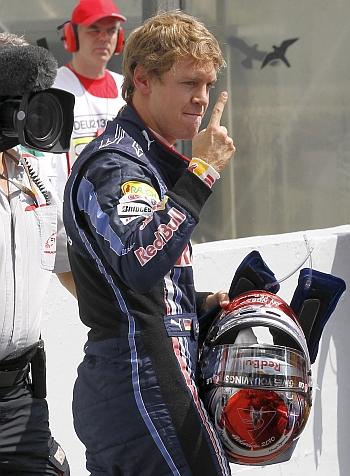 Red Bull's Sebastian Vettel snatched pole position for his home German Grand Prix on Saturday after beating Ferrari's Fernando Alonso by barely the blink of an eye.
"Yes, baby!" shouted the 23-year-old local favourite, taking his sixth pole in 11 races and Red Bull's 10th, after denying Ferrari their first top slot since 2008 by a mere two thousandths of a second.
Vettel's fastest lap of one minute 13.791 seconds came right at the end of the session and Alonso, following him, could not match it.
"It would be interesting to calculate just how much it is," Vettel said of the time gap that clinched his third Formula One pole in succession and first in front of his home fans.
"Two thousandths of a second is not really the margin you are looking for," he added.
"The main challenge will be tomorrow. It will be a tough fight against the red cars I guess."
Brazilian Felipe Massa qualified third for Ferrari, a day before the first anniversary of the Hungarian Grand Prix qualifying crash that ended his 2009 season and left him in hospital with life-threatening head injuries.
Red Bull's Australian Mark Webber, winner of three races this season, was fourth after making a mistake and running wide.
MCLARENS TOGETHER
McLaren's world champion Jenson Button and Lewis Hamilton, the overall leader, will line up alongside each other on the third row.
Button's fifth place was the first time he had outqualified Hamilton since China in April.
Double world champion Alonso, the quickest driver in the first two sessions, could at least be content with his first front row of the season after a string of setbacks in recent races.
"We have to be happy," said the Spaniard. "Finally we made a perfect Saturday. We lost pole by a very small margin but that is not important. The points come on Sunday, not Saturday."
Poland's Robert Kubica qualified seventh for Renault with Brazilian Rubens Barrichello eighth for Williams.
Two German Nicos, Rosberg for Mercedes and Hulkenberg for Williams, shared the fifth row at the expense of returning seven times champion Michael Schumacher who failed to make the final phase of qualifying and starts 11th for Mercedes.
Hulkenberg, managed by Schumacher's long-term commercial adviser Willi Weber, edged out his great compatriot in the dying seconds of the second phase.
The first part of qualifying was halted for eight minutes after Italian Vitantonio Liuzzi lost control of his Force India and smashed into the pitlane wall, spreading debris across the track.
His German team mate Adrian Sutil, who had suffered a driveshaft failure in final practice, qualified 14th but will be demoted five places on the starting grid for an unscheduled gearbox change.