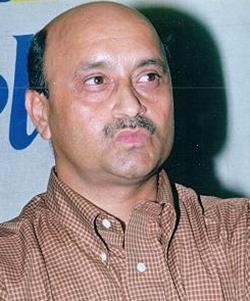 Hockey India's five-member committee, including two former Olympians Ajit Pal Singh and Zafar Iqbal, is likely to nail former chief coach of the Indian hockey team M K Kaushik for the alleged sexual harassment of the members the Indian women's hockey team.
Indian hockey was rocked by a fresh controversy on Tuesday with a member of the women's team sending a written complaint alleging sexual harassment against one of the coaching staff.
Ranjita Dev spilled the beans on sexual harassment by writing a long letter to Hockey India, giving details of the sexual harassment by Kaushik and his coaching staff. The letter was signed by 30 of her fellow players.
The HI committee -- which has Rajiv Mehta as the chairman, Anupam Gulati as the convener, also includes Sudharsan Pathak -- met both Kaushik and Ranjita on Wednesday afternoon; the latter were then asked to give a written submission by Thursday.
This, along with the findings by the committee, would then be forwarded to the Sports Authority of India for further action against the coach.
According to HI sources, while two members of the committee are in favour of absolving Kaushik of the charges against him, the other two members are against this.
The verdict is expected hold Kaushik guilty, the source added.
However, Zafar on Wednesday had pointed out that Ranjita's claims are weak and it could well be a conspiracy against Kaushik. 
"The case is not strong. The girl's complaints were dicey. We have heard both the parties and we will decide on the outcome once we have their replies. Kaushik has been the national coach of India since 1991 and many of us have played with him," Zafar told reporters.
"I cannot rule out conspiracy as it is clashing with the (HI) elections. The girl says this is happening from the past six months, if so why is she coming out now? Also, when I asked whether she faced any physical overtures like touching, she denied it," he added.
While Kaushik has resigned in the wake of the sex scandal, the team's videographer M Basavaraja, whose photographs with a prostitute during an overseas tour emerged in the media, was sacked.