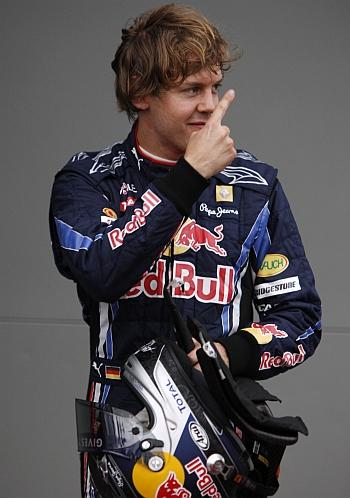 Germany's Sebastian Vettel roared to pole position ahead of team-mate Mark Webber on an all-Red Bull front row at the British Grand Prix on Saturday.
Vettel, who won from the top slot at Silverstone last year, has now taken five poles from the 10 grands prix so far this season.
"I hope we can repeat last year's story," said the 23-year-old German after his second pole in a row.
"It's not my home grand prix but I feel at home because my team's home is here," he said, delighted that his car was "just quick everywhere."
"We have a strong car here so we should be able to win," added Vettel in a post-qualifying news conference, while Webber sat next to him with a face as stony as a gravel trap.
"I think the team will be happy with the result today," said the Australian, without a flicker of a smile in contrast to his grinning team-mate.
Ferrari's Fernando Alonso qualified third for Sunday's race with McLaren's championship leader Lewis Hamilton fourth in his home race at a classic circuit that has been lengthened and reconfigured since last year.
BUTTON JINX
World champion Jenson Button, second overall and six points behind team mate Hamilton, saw his Silverstone jinx continue with 14th place on the grid.
The Briton has yet to stand on his home podium after more than a decade in the sport and his hopes took a big knock when a major update proved to be a huge handful in Friday practice.
McLaren decided to ditch the new "blown diffuser" and floor after second practice, reverting to the setup that took them to a second and third place in Valencia two weeks ago.
With all the changes and late modifications, something clearly went awry.
"This morning the car felt really good but the car was undriveable this afternoon, (I knew) as soon as I jumped in it," Button told reporters in the Silverstone sunshine.
"I think there's a lot of work to be done on the upgrades to improve them. It wouldn't have been right to run them here," he added.
Alonso, who expressed his feelings in no uncertain terms after Hamilton escaped any meaningful sanction for illegally overtaking the safety car in Valencia, was happy to be lining up ahead of the Briton.
"We continue to develop the car and perform better and better," said the Spaniard.
Germany's Nico Rosberg again outqualified Mercedes team mate Michael Schumacher, the younger man starting fifth with the seven-times champion 10th.