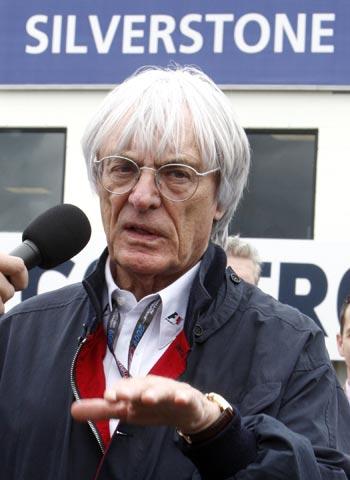 Formula One supremo Bernie Ecclestone has set Silverstone a December deadline to keep next year's British Grand Prix on the calendar.
The next meeting of the governing FIA's world motor sports council is on December 11, when the final schedule will be published.
"The world council will meet and we will just pull it off (the calendar)," Ecclestone told Friday's Times newspaper when asked about the British race.
"We'll have no other choice if we don't have a contract. We shouldn't have anything on the calendar unless we have a contract in place," he added.
Ecclestone said if no deal was done the race would be removed initially for just one year and not be replaced with anything else, reducing the schedule to 18 rounds. However he still hoped for a deal.
"They (Silverstone) are close and they know they are close. It's not the terms and conditions so much as whether the investors are prepared to bankroll them and take the risk," he said.
Next year's British race was supposed to have been at Donington Park but that circuit's operators are now in administration after failing to raise the funds needed to renovate the facilities.
BRITISH CHAMPIONS
Silverstone, a former World War Two airfield owned by the British Racing Drivers' Club (BRDC), hosted the first championship grand prix in 1950.
Its absence would be a loss for the country that is home to many of the teams and next year will have two British world champions, Jenson Button and Lewis Hamilton, side by side at McLaren. "Of course we want a British Grand Prix," said Ecclestone.
"I've been spending an awful lot of time trying to make sure it does happen. But there is no chance of an exceptional contract for Silverstone. Why should there be?"
BRDC president Damon Hill said the club was reluctant to sign any deal that put it in peril. "Bernie doesn't care whether you lose your shirt or not," he said.
"He wants to deal with someone who can take a chance. We saw what happened with Donington and so there is a point at which it becomes a fine line between signing a contract or not," he added.