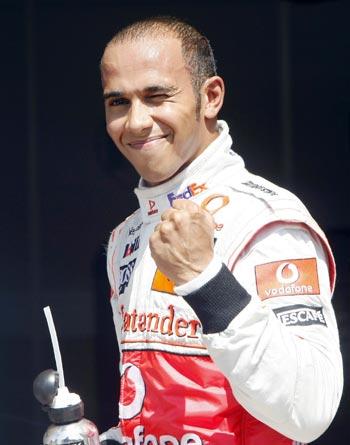 Lewis Hamilton looked forward to his most exciting Formula One season yet on Monday while jokingly casting himself as 'just a number two driver' alongside Jenson Button at McLaren.
The 2008 world champion, who celebrated his 25th birthday last week, will have the number two on his car while fellow-Briton Button enjoys the number one after taking the title with Brawn last year.
Both will be battling each other while also having to contend with seven-times world champion Michael Schumacher, making his comeback with Mercedes at the age of 41 and after a three-year absence.
"I think it might be one of the most exciting seasons in Formula One yet, at least for myself," Hamilton, who has yet to race against Schumacher, told ITN television at an appearance for a sponsor.
"Especially having Michael Schumacher back, I've got the world champion sitting next to me as my team mate. Felipe Massa's back, Fernando (Alonso)'s at Ferrari.
"Really I would say the best drivers are in the best teams and so the competition this year should be the most exciting I think."
Switzerland-based Hamilton and Monaco resident Button have yet to overlap at the British-based team's Woking factory but the younger of the two Englishmen said he looked forward to working with the new champion.
"He's got a huge amount of experience of Formula One so hopefully I will learn a lot from him and vice versa," he said.
"Obviously we both want to win but hopefully we will both go in the same direction with the same goal which will help the team move forward and get some good success.
'NUMBER TWO'
"I think it's all a level playing field but clearly I have been in the team a little longer than him," added Hamilton, who has been at McLaren since 2007 but backed by them for more than a decade.
"The team is working very hard to get him up to speed as fast as he possibly can, but then he is the world champion you know. I am not the world champion, I am just, I am the number two driver," he laughed.
McLaren announced earlier that both drivers would have new race engineers with Button having a crew built around him just as Hamilton did in 2007.
While that will help level the playing field and stave off accusations that McLaren is built around Hamilton, the former champion has been deeply involved in the new car that Button will drive for the first time only next month.
"I've had a very close eye on the car since it started development back in September or so, and I had a huge amount of input into it," said Hamilton.
"Every year I seem to have more and more input into the car. Last year actually I didn't have much input into it, thank goodness," he added, referring to a car that was woefully uncompetitive in the early races but then became a winner.
"Through the year obviously I had a lot of input into it and it got better and better, but with this one I was at the factory quite a lot, really trying to give as much input into it as possible."