The reigning F1 world champion Jenson Button has hinted at a sensational switch to McLaren next season, after talks with Brawn GP were stalled.
"I have been approached by other teams but I can't say who as that is confidential. But it's not about money. No driver is paid a bad wage. We do what we do to win," The Sun quoted him, as saying.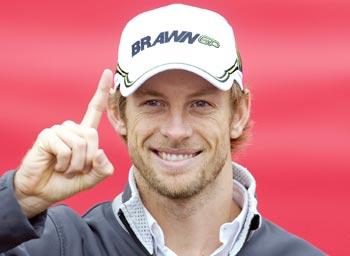 Button is looking for a 5 million pounds raise from his current 3 m pounds salary.
It is being said that Brawn GP will not have the cash to meet his demands, unless Mercedes buy a 70 per cent stake in the Brackley-based outfit.
"I've started talks with Brawn, but we are not going to talk seriously until after this weekend. My aim is to be in a car that can win races next season.
"I think Brawn have the money, they have just won the world championship. That's worth a lot of money," he said.
Button provided more fuel to speculations linking him with McLaren and a "dream-team" partnership with Lewis Hamilton, by saying that he wouldn't mind driving alongside his fellow Briton.
"I have achieved what I wanted to in F1 and I want new challenges. Whoever I am driving against is exciting," he said.
"There is no one I would not go up against. There is no point in having it easy. I didn't have it easy with Rubens Barrichello this year. He is the best team-mate I have been up against," he added.